How Did DJ Zinhle Appear In Anele Tembe's Funeral Slide Show? – Tribute Video To Nellie Gone Wrong
Many South Africans were left puzzled by certain occurrences as they watched with dejection a beautiful ceremony dedicated to the fruitful life lived by Anele Tembe.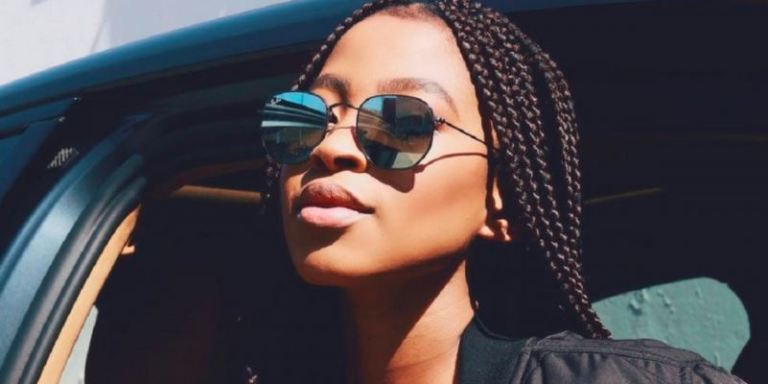 However, there was one particular occurrence which stood out among the lot which many believed was at least an accident.
AKA, with the help of an unnamed person, compiled a short video to pay tribute to his late fiancée. The beautiful video saw Nellie from her early stages of life to the most memorable moments in their relationship. And then a picture of the mother of his child pops up which well, made a lot of eyes eyes pop.
How did DJ Zinhle appear in Anele Tembe's funeral slide show? pic.twitter.com/ADS3uW3JbW

— Man's NOT Barry Roux  (@AdvoBarryRoux) April 16, 2021
Many people were not happy with what they saw and thought it was a sign of disrespect to the family of the deceased as well Zinhle herself.
Noo Guys

The person who compiled that Anele Tembe slide he collected her pictures from google and picked the one ka DJ Zinhle by mistake

Go and Google Anele Tembe pictures you will see that pic ka Zinhle pops up

Surely the person is not familiar with Zinhle

— PARTY ANIMALS IN MZANSI 🦋 (@PartyTimeMzansi) April 16, 2021
Not Zinhle appearing on Nellie's tribute video! Bathong Kiernan. pic.twitter.com/sUhaxMBmy9

— TheQueerMedic🩺 (@GiftSmith_ZA) April 16, 2021
the person who made the slides and added DJ Zinhle is so shady and disrespectful! https://t.co/OKwV7jlFkJ

— a. (@Anissa_amour) April 16, 2021
Whoever that combined together the tribute to Anele Tembe was very negligent how can he/she not see that Zinhle 's photo appeared!!

Why didn't that person double check or the person was being just shady and disrespectful 💔💔💔

— 🕊🕊Dr Sindi 🕊🕊Noxolo Maqashalala 🕊🕊 (@ApheleleJody) April 16, 2021
Anele 'Nelli' Tembe lost her life last week Sunday after allegedly falling off from the 10th floor of a premium hotel in Cape Town. She was apparently alive for 30 minutes before the ambulance declared her deceased.
Exact details around Nelli's death are unknown at this stage but witnesses at the hotel described hearing a scream on Sunday morning, followed by a "loud doef" sound. They said they had also heard a man shouting.
Police have confirmed the incident is under investigation.
Netcare 911 spokesperson Shawn Herbst said paramedics arrived on the scene and found a 22-year-old female who had allegedly jumped from the 10th floor.
He confirmed that the woman was found naked by the first responders and that she was in a critical condition.