Here we don't call cops; Community makes mob justice pact, You commit crime they kill & keep quiet
Here we don't call cops; Community makes mob justice pact, You commit crime they kill & keep quiet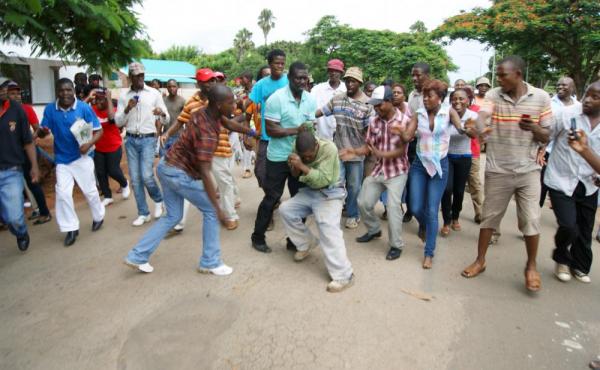 The community of an informal settlement on the East Rand has lost so much trust in the police that they have decided to take the law into their own hands when they catch alleged criminals in the area.
In the past week alone, two separate incidents of mob justice have been reported in Qalabusha informal settlement in Daveyton, with two men confirmed dead while another is fighting for his life at a local hospital.
In an incident that happened on Thursday, a man was attacked with electrical cables, iron rods, stoned and left for dead. The community said he was allegedly found stealing home appliances in one of the shacks.
Mandla Tsotetsi, 24, is in the Far East Rand Hospital's intensive care unit.
In another incident that happened last Monday, just three days before Tsotetsi was attacked, two unknown men were stoned to death after they were caught allegedly breaking into shacks in the area.
Speaking to Sowetan anonymously yesterday, a resident said the community was tired of the incompetence of the police in Daveyton.
"Here we don't call the police anymore. We blow a whistle when we catch a thief and we beat the life out of you. It sends a very strong message to all others who want to try stealing from us," she said.
The woman said the settlement, which is situated behind the Daveyton train station, was established three years ago.
"Our children get raped by people who just break in during the night or early hours of the morning. When you report the matter to the police, they come one day and never return,"she added.
She said there were trends of burglary and robberies but nothing is being done.
Another resident who also asked to remain anonymous for fear of his life, arrived in the area in December last year. He said it was culture to kill thieves in the informal settlement.
He said he knew a group of leaders who were behind the killings.
"We cannot name them. It is a rule in the settlement (not to talk about the incidents of mob justice). They are called elders and they enforce security and safety in the shacks. They torture, kill, burn and stone thieves as we watch. Sometimes we get traumatised because they kill innocent people because the don't want to verify facts," he said.
The father of three said the group of men behind this are mainly gang leaders from the rural areas and local hostels who intimidate and threaten the community to not to talk about these incidents.
"They call community meetings and make it clear to us that no one should say anything to the police or outsiders. Even our children know not to say a word or else we will be dealt with and none of us want to be examples."
In May 2019, Rethabile Choshane, 27, was necklaced in a vigilante attack in the same area. It later turned out that it had been a case of mistaken identity when the community was after a bag snatcher.
A woman had been mugged and her attackers ran towards his direction. Choshane was caught and police and his family said he was not given a chance to defend himself. He was burnt beyond recognition.
His family told Sowetan that he was on his way to pick up some sorghum for his chickens at a nearby farm when he was attacked.
Daveyton police spokesperson Sgt Constance Moalusi said police were not aware of the incidents.
"Police they were not aware of the matter it was only seen on social media. No cases had been opened so far, however investigations have begun. Police will visit the area today to verify all the facts and possibly make arrests," said Moalusi.