Here is how much Lerato Kganyago's husband Thami Ndala had to splash out on Valentine's day #LEVELS
Here is how much Lerato Kganyago's husband Thami Ndala had to splash out on Valentine's day #LEVELS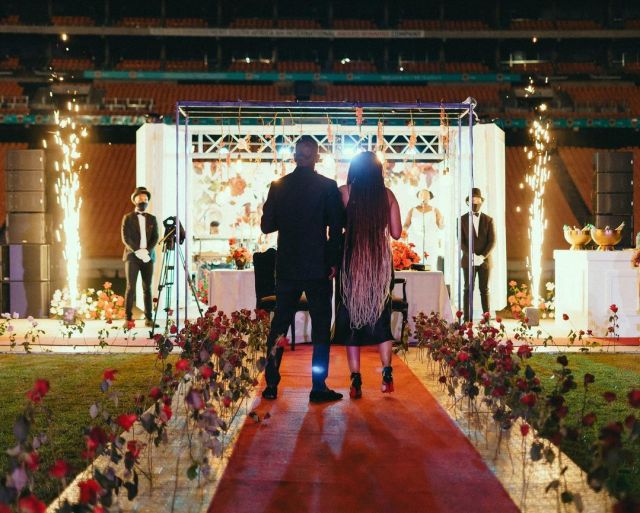 TV and radio personality Lerato Kganyago shut down Valentine's Day this year and set tongues wagging.
The media personality and her controversial husband, Thami Ndala, had an intimate Valentine's Day dinner at the FNB stadium while Afro soul singer Zonke serenaded them.
In total the intimate dinner could have cost the couple an estimated amount of R1, 060, 000 or more.
According to insiders, booking the stadium costs up to R500 000.
"Depending on whether you want a pitch venue or pitch cover, booking the stadium can range from an estimated R100 000 to almost R524 000," said the mole.
Another insider said to book award-winning musician Zonke Dikana can cost one almost R250 000!
"Zonke charges R250 000 for private performances. This includes the band, but you have to hire your own equipment," said the second mole.
Contacted by the SunTeam, Lerato refused to comment. "Thank you for your call and I appreciate the interest, but we aren't doing any interviews regarding that," she said.
The estimated prices don't include photographer and videographer fees.
Daily Sun spoke to celebrity photographer who said the industry rate is R2 000 an hour and for videos it varies depending on what the customer asks for.
Daily Sun further spoke to a sound hiring company which told us that the sound system could have costed a hefty price of R250 000.
While an Insider said the Deco could range to plus-minus fifty thousand.
"With celebrities you can never be sure, they could have negotiated for a lower price and promised to promote the décor company, but by the looks of things it couldn't have been less than R50K," the mole shared.