Heartwarming video of DJ Zinhle and Murdah Bongz on the dancefloor melt Mzansi hearts
Heartwarming video of DJ Zinhle and Murdah Bongz on the dancefloor melt Mzansi hearts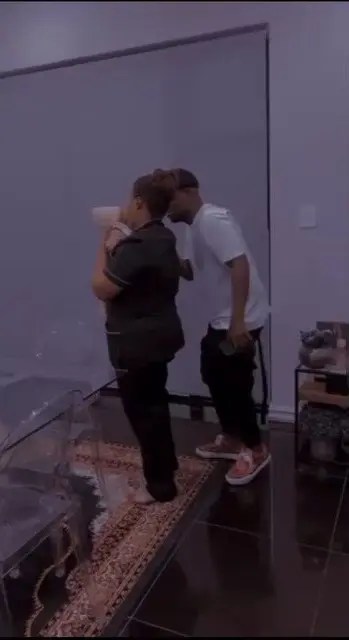 Baby Asante's arrival has brought so much joy into the Mohosana and Jiyane household. Zinhle always brightens up her follower's days by posting some heartwarming baby content whenever she gushes over her bundle of joy.
DJ Zinhle's second baby Asante had a wonderful dance with her father, Murdah Bongz and her fans cannot stop gushing over them. Both of them have been booked and busy but finally got reunited at Zinhle's home. Zinhle posted selfies of the two of them and said 'reunited,' which suggests that she and Murdah have been apart for while.
Murdah on the other hand also showed how much he is excited to be with his family and said, "God loves me, wow."
Then she had us reaching for the tissues when she posted a video of Murdah playing and dancing with Asante. They are just an adorable duo.
Zinhle also mentioned how much she cannot live without Murdah Bongz and said it is probably childish. "It's really childish how I cannot live without Murdah Bongz," she said.
Yho God really came through for Dj Zinhle with this man pic.twitter.com/rhQQE8i01p

— Usie N 🤍 (@Usisipho_N) November 3, 2021
This family is the cutest, here's how her fans reacted:
"Yho God really came through for DJ Zinhle with this man."
"That's God restoring all that is lost and when it's time he definitely shows off, and blesses you with all your heart desire."
"God works in mysterious ways…He will send you the one at the right time."
Zinhle had mentioned before how Kairo is feeling a bit left out ever since Asante came into their family. She makes time to spend with Kairo separately so she does not have that feeling of resentment.
"I think it's an adjustment for all of us, yesterday we literally had to have a mommy and me spa day without the baby, because she is feeling a bit neglected. I have to think of everything now, if I am buying this for Asante I have to think of Kairo. And naturally I am geared to take care of Asante because she is so small. But I had to really say I have two kids, you have to attend to both and I have help luckily.
"She's doing very well she loves her sister, she just thinks the baby is boring which is true, but she loves her," Zinhle laughed.
Her career is also blossoming the same way her private life is. Zinhle recently had to defend female DJ 's after the hate they re receiving online by trolls. Especially since the meteoric rise of Uncle Waffles.
A troll said, "Being a female DJ these days only requires looks and some sexy dance moves. Nobody cares about your mixing".
Zinhle is not having it and so she replied to his tweet and said, "So sad that you chose to reduce the growth of the female DJ industry to this. I definitely don't agree with you. I'm loving how the girls are making it their own and dominating. Surely there's something to celebrate here."
She dropped some pearls of wisdom for other female DJs and told them to just be themselves, "Female DJs, perfect your art… don't give them a reason to disrespect your work. Practice makes perfect. With that said, wear whatever you wanna wear & dance if it's your thing… They are talking because you're shaking the industry. It's our time!"