Health scare for actor Mbuso Khoza
Health scare for actor Mbuso Khoza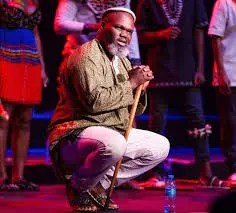 Singer and actor Mbuso Khoza had to be rushed to the hospital after having an asthma attack on Tuesday night, 7 December.
The Umkhokha actor took to Facebook on Tuesday and said: "I know I shouldn't be doing this but if you're around Rosebank, please call me ambulance is taking longer. I'm having an asthma attack I can't move. Please call me," he wrote.
The next morning, 8 December, he explained to his Facebook friends what happened.
He said that the attack was caused by the kind of environment he's currently working in. He is currently filming a movie.
"Yesterday during the shoot of this movie, I was suffering from a tight chest, even the producer came to me saying that he's noticing some strange energy levels, I brushed him off, then at 5pm, I asked to be excused not knowing that working in a damp or dusty environment can trigger asthma attacks," he wrote.
"So last night around 10:10pm, I couldn't breathe at all. That's when I decided to post here after trying a few people. Luckily a few musicians live around here. Greg Maloka rushed me to the hospital. Covid tests were done and came out negative. The doctor said it's me who's not taking care of himself," said Mbuso.
He thanked the musicians who came to his rescue and advised people to take care of themselves.
"I wish to thank everyone for trying to rescue me even though some of you were very far from where I was. Musicians such as Banda Banda, Lungile Maduna, Zoe Modiga and Ndabenhle Zulu stayed at the hospital until 2am waiting for me. Ladies and gentlemen, asthma is worse than many other illnesses. Church choruses can be sung in a few seconds if you don't look out for yourself. I'm feeling much better now," he said.