'He overpowered me' – Masechaba Ndlovu details what really happened when Jub Jub r@ped her
'He overpowered me' – Masechaba Ndlovu details what really happened when Jub Jub r@ped her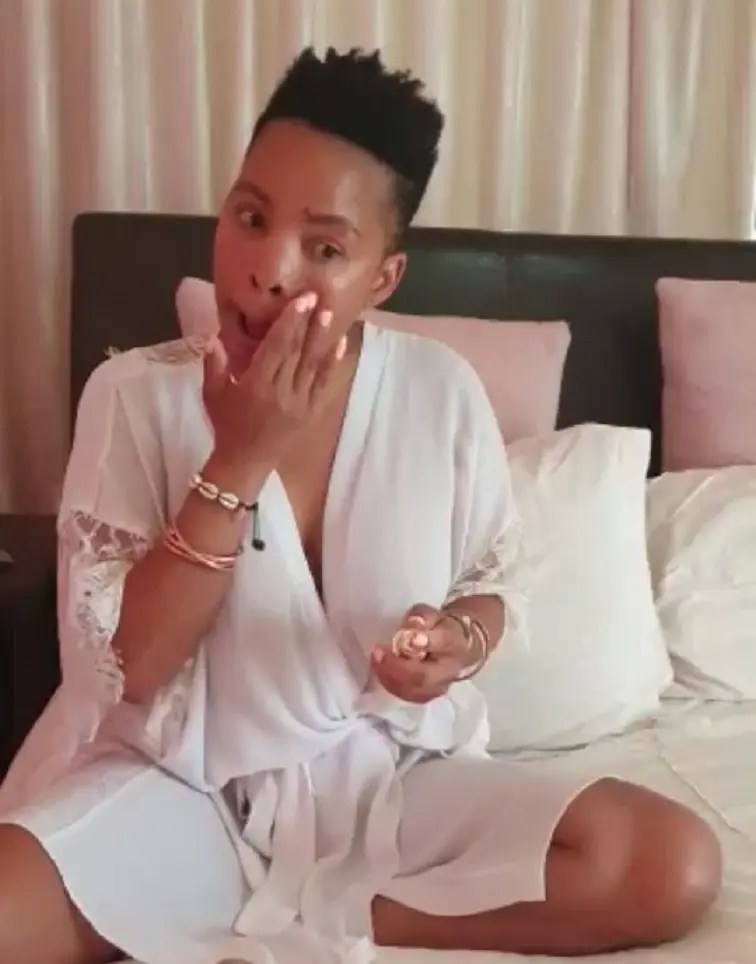 Masechaba Ndlovu has reflected on her alleged rape ordeal experience at the hands of Jub Jub.
The TV and radio personality penned her ordeal in a sworn statement leaked to the media. In it she recalls how Jub Jub – her ex-boyfriend – allegedly raped her in his mother's house when she was just a teenager.
In an affidavit tweeted by journalist Eusebius McKaiser, Masechaba claims she was a "grade 11 or 12 learner at Mondeor High School" when she began dating Jub Jub. She also claims she told him she was a virgin.
Masechaba claims the incident occured after Jub Jub invited her to his home to watch a movie and eat popcorn. She also claimed that Jub Jub instructed her to "carry a notebook and pen" and "pretend to be a journalist coming to interview him" if his mother; Mama Jackie asked.
She detailed the course of events; "Molemo prepared popcorn and we watched a movie. Then we kissed and he requested we move to the bedroom in case his parents come back.
"We continued kissing. He tried to persuade me to have sex with him. I told him I was not ready [and] I repeatedly said no and kept pushing him away. I even used my knees and legs to push him off because he was on top of me".
Masechaba then revealed that she gave up fighting after a "physical struggle".
"He told me it would be quick and I should relax. There was a physical struggle between us. I became physically tired and he eventually overpowered me, pulled my legs open and penetrated me.
"At this point I was numb and in complete shock. I stopped fighting. I was paralysed. The experience was brief and painful. I put my clothes on and went home".
The next day, Masechaba allegedly reveals that Jub Jub ordered her to take emergency contraceptives.
"Molemo called and asked me if I knew about morning after pills. I had never heard [of them]. He explained that I needed to get tot he pharmacy and get morning after pills to prevent pregnancy. I did as instructed".
I believe @AmandaDupont. Molemo Maarohanye (Jub Jub) raped me too. It happened in Mama Jakie's house in Naturena. He was my boyfriend. I was a teenager. I was a virgin. https://t.co/OcL9zY8YNN

— Masechaba Khumalo 🇿🇦 (@MKhumalo___) December 2, 2021
"It was a humiliating experience. I couldn't tell my mother because I had lied to her about my whereabouts and I was scared that I would be in trouble for going to a boy's house. I was ashamed and embarrassed [and] did not tell a soul".
Masechaba also reveals how the experience impacted her, years later.
"I blocked the entire experience out of my mind, and due to the trauma, I did not have sex for years after that experience. I did not admit nor want to admit to myself that I had been raped".
Trigger warning: if you're a rape survivor, the text below may trigger traumatic memories you have buried.

It's from Masechaba Ndlovu's answering affidavit, responding to Mama Jackie, in which Masechaba shares *her* memories of the day Jub Jub had raped her.

Difficult reading. pic.twitter.com/84wEi0hFtq

— Eusebius McKaiser (@Eusebius) December 26, 2021