Happy birthday to John Cena hitmaker Sho Madjozi as she turns 29
Happy birthday to John Cena hitmaker Sho Madjozi as she turns 29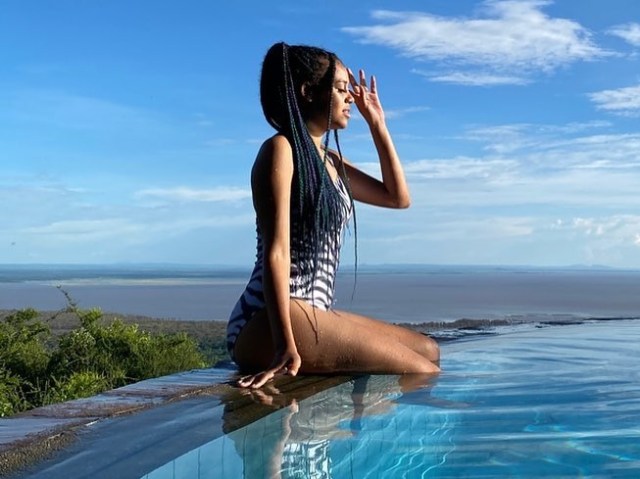 Rapper, singer, songwriter, actress, and poet Sho Madjozi whose real name is Maya Christinah Xichavo Wegerif, turns 29 today. Sho Madjozi is one of the fastest rising stars who's also shared the stage with the likes of Chris Martin, Cardi B, Shawn Mendes, Janelle Monáe, and The Weekend.
Proud of who she is, her music is inspired by her Tsonga culture and language. She proudly sings in her mother tongue and regularly performs the indigenous dance of Tsonga women wearing a Xibelani skirt.
She's quite the cheerful individual that everyone adores and wishes to emulate especially when it comes to her bright and colorful hairstyle. However, Sho Madjozi is not one to be messed with especially when she's provoked over nothing, she will quickly show you the front door.
As Sho Madjozi has another year added to her life, let's take a look at the times she set the timeline ablaze.
Sho Madjozi and Burna Boy's beef
Sho Madjozi was not going to let Burna Boy off the hook that easily. Sho said she was not intimidated by Burna Boy and even called him a bully.
A few days before the BET Awards, Sho Madjozi accused Burna Boy of damaging her chances of winning by having their collaboration with UK rapper Stormzy taken down from streaming services.
Sho claimed the song was taken down because Burna Boy saw her as a threat after the two were nominated in the same category of Best International Act at the BET Awards.
To believe this I would have to believe that:

1. The song got automatically flagged a month late by coincidence

2. When they said YOU wanted it down they meant your label

3. A big international label would release a song without clearing it

It's a lot Burna. Let's keep it 💯 https://t.co/pmxuZTYRke

— What a Life (@ShoMadjozi) June 25, 2020
Burna Boy however denied any foul play and dragged Sho Madjozi for trying to create beef where there was none.
Bonang throws shade at Sho Madjozi
Ever since she won a spot in the #BaseHottestMCs, people had been going back and forth debating whether Sho Madjozi had earned the spot to be called an MC or not.
Bonang Matheba even called for the panelist to come up with a better list. When Sandile Booi tweeted "Is Anatii a Rapper?" Bonang Matheba tweeted something that came across as shade to Sho Madjozi.
Is Sho Majozi? https://t.co/DljyHzMtr2

— Bonang Matheba 👑 (@bonang_m) December 12, 2019
All of Sho Madjozi's wins
Sho Madjozi's John Cena song went on to become a huge hit and put her on the map. According to John Cena, Sho Madjozi 'did the impossible' by also starting The John Cena Dance Challenge.
We thought that would be one of Sho's biggest accomplishments, but she proved everyone wrong by winning more accolades.
Sho Madjozi added another major win to her long list of achievements by being selected as one of the 21 artists joining the #YouTubeBlack Voices Class of 2021.
On the back of hits like "John Cena" which had 2.6 million Spotify streams and "Huku" which had 1.6 million streams, she took home "Favorite African Star" at the Nickelodeon Kids Choice Awards after having been nominated along with the likes of AKA, Nomzamo Mbatha and Somizi Mhlongo.
She also won "Best New International Artist" at the BET Awards, "Entertainer of the Year" from Forbes, and more. She was nominated once again, for the second time, for a BET Award in the category of "Best International Artist.
Sho Madjozi on losing her sister
Sho Madjozi suffered a great loss when she lost her sister Makhananï Maganye in a car accident in 2019. When she took some time off work to grieve, she wrote that she needed to accept that her sister was no more and that she felt powerless.
You guys did not mention that the toughest thing after losing someone close to you is believing it. That the biggest effort will be spent suppressing the hope that there's been a mistake, that the person is going to reappear somehow and that life will go back to normal.

— What a Life (@ShoMadjozi) December 31, 2019
"I don't know how many times I will have to push this same rock up this same hill. Every day I think OK I've accepted it, then I wake up the next day and it's like I'm being introduced to the news all over again," she said.