Getting to know Mantfombi Dlamini the Queen and interim leader of the Zulu Nation
Getting to know Mantfombi Dlamini the Queen and interim leader of the Zulu Nation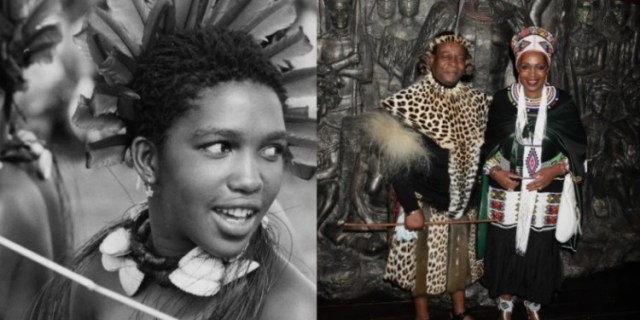 A few days ago South Africa was robbed of one of the most dedicated and statesman of the Zulu Nation, King Goodwill Zwelithini. In the wake of his burial, Mzansi is still mourning.
Of late the Zulu Nation has made all sorts of headlines when it comes to succession woes. However Mantfombi Dlamini wife to the deceased Zulu Nation King, Goodwill Zwelithini, currently, Queen Mantfombi is the leader of the Zulu nation until the rightful king steps into the position for the future.
Little was known about Queen Mantfombi Dlamini, but it seems she has thrust into the spotlight with her new royal duties.
After the sudden death of the King, she assumed the role of the interim leader of the Zulu Kingdom up until the rightful king steps into position. It just so happens that her first-born son seems to be the chosen one for the position.
Well here are some of the interesting facts you might need to know about the interim Zulu Nation leader. Growing up a Swazi princess, Mantfombi was betrothed to King Zwelithini. She tied the knot in 1997 with the late King. However, her union with the king made her be his great wife.
According to their tradition, her boy children would be considered first to take the throne. Despite having several wives Mantifombi's children will assume the kingship of the Zulu nation.
After her, the king had five more wives and 28 children. According to eNCA article reports. Each wife also reportedly lives in a royal palace of their own which is naturally filled with servants who cater to their every need. However with his great wife the King had eight children together, five of them being sons and three daughters.
During the funeral wake, it was confirmed that the great wife would assume the position as the royal family maps the way forward. Rumour has it that today the Zulu royal family would be meeting with the late King Goodwill Zwelithini's lawyers.
It was established that the matter beforehand was to discuss who will be his successor. Sources have revealed that the royal household confirmed that Queen Mantfombi Dlamini will be regent.
Queen Mantfombi is the person who will reportedly appoint the late Zulu monarch's successor from one of her sons. Prince Misuzulu Zulu is Queen Mantfombi's firstborn son and maybe the person who succeeds the King.