Getting to know Judge Ratha Mokgoatlheng, the former soccer star presiding over Senzo Meyiwa trial
Getting to know Judge Ratha Mokgoatlheng, the former soccer star presiding over Senzo Meyiwa trial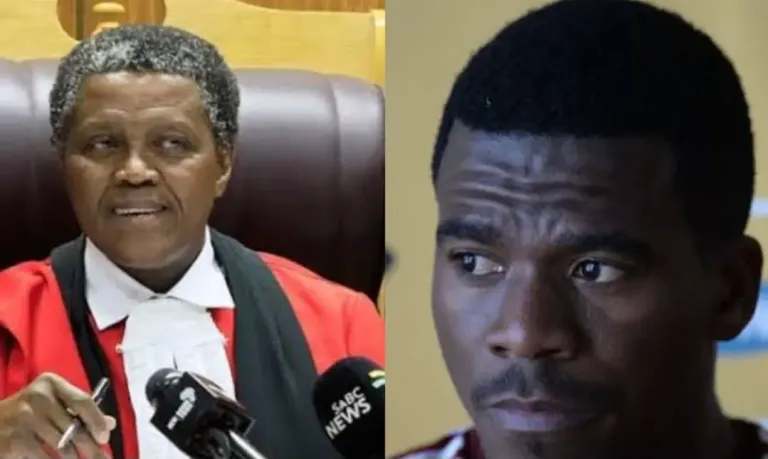 The new presiding judge in the high-profile murder trial of slain soccer star Senzo Meyiwa has captured the imagination of South Africans who have followed every twist and turn of trial so far.
Judge Ratha Mokgoatlheng's no-nonsense approach, his vast knowledge of South African law, his wit and the sharpness of his tongue has gained him many admirers. His signature round spectacles and wry smile have equally found a legion of fans.
One cannot but wonder if the late Bafana Bafana captain and Orlando Pirates goalkeeper is smiling from heaven at the irony that Judge Ratha, a former ace soccer player for Orlando Pirates himself during his youth is the one chairing his trial.
Mokgoatlheng restarted the Meyiwa murder trial after President Cyril Ramaphosa suspended judge Tshifhiwa Maumela.
Mokgoatlheng was born in Alexandra Township and later moved to Diepkloof, Soweto.
In his early 20's, Mokgoatlheng joined Orlando Pirates and was known as Jimmy Greaves.
Even during his soccer days, it is said the judge used to play wearing spectacles.
According to information on the Kaizer Chiefs website, Mokgoatlheng's time with Orlando Pirates was short lived after he was expelled from the club alongside Thomas 'Zero' Johnson and Edward 'Msomi' Khoza.
The trio were expelled after they had gone on a trip to Gaborone, Botswana, to participate as guest players for a local club without properly informing the management.
Following the axing from the Buccaneers, Mokgoatlheng co-founded Kaizer Chiefs with Kaizer Motaung.
It was also around that time when he went to study law at the University of Fort Hare.
He continued to play for Kaizer Chiefs while at university and was still part of the club even after he was admitted as an attorney in 1976.
After practising for 30 years, he became an acting judge in 2002 until being appointed as a fulll time judge in 2007, before he retired.
Mokgoatlheng was the judge who sentenced ex-spy boss Richard Mdluli to five years in jail for kidnapping, assault, and assault with intent to cause grievous bodily harm charges.
He was also the same judge that recognized events coordinator and publicist, Lerato Sengadi hip hop star HHP's customary wife during highly publicized court battle.
The judgment was made after the rapper's family said they don't recognise Sengadi as the rapper's widow and excluded her from funeral proceedings.
As he now oversees, perhaps the biggest murder trial of his long career, that has been marred by delays and court room shenanigans, many are curious to see the approach Jude Mokgoatlheng