Former Mzansi it-girl Nonhle Thema speaks after her dramatic downfall
Former Mzansi it-girl Nonhle Thema speaks after her dramatic downfall
Mzansi's former it-girl Nonhle Thema has said that she is done dreaming about things she can do or do better because she has done it all.
Nonhle took to Instagram to express her emotions following her downfall. She said, "My focus when I was young was to be a TV star and I ended up being a global star. I'm content now cos all my dreams happened in my 20s. I sometimes feel I have no dreams cos I smashed them all in my 20s. I'm now just living. I have different dreams now as I head to 40. I did it all in my 20sm nothing new to me now"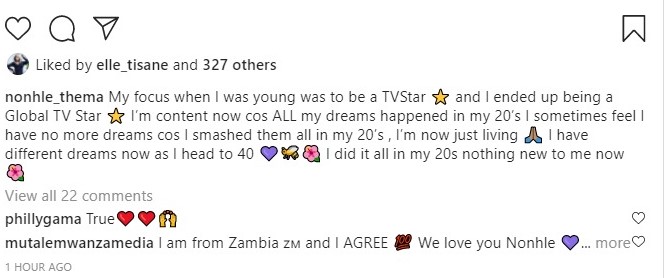 Nonhle took a break from the entertainment industry and only came back last year after she bagged a role on Mzansi Magic's number one show, Gomora.
Gomora were treated to Nonhle's character, Cleopatra Mofokeng who was a 30-year-old, skillful, untrustworthy, and manipulative con-artist from Gauteng, who was poverty-stricken growing up. Her mother worked as a domestic worker and her father worked as a gardener.
She and her siblings lived in an RDP house that Cleo inherited. This caused her and her siblings to fight amongst each other as they never understood why she inherited the house.
Using her beauty as her weapon to scheme men, she also tricked people into joining her pyramid schemes then later stealing their money.
Nonhle's career took a hard knock in 2011 when she started engaging with twitter trolls, up until that point, Nonhle was South Africa's sweetheart who could do no wrong. She popularized the term "Sit Down", for the longest time, Nonhle was the Queen of clapping