Former #IdolsSA judge Unathi Nkayi is now a doctor, speaks on her way forward: Here are all her qualifications
Former #IdolsSA judge Unathi Nkayi is now a doctor, speaks on her way forward: Here are all her qualifications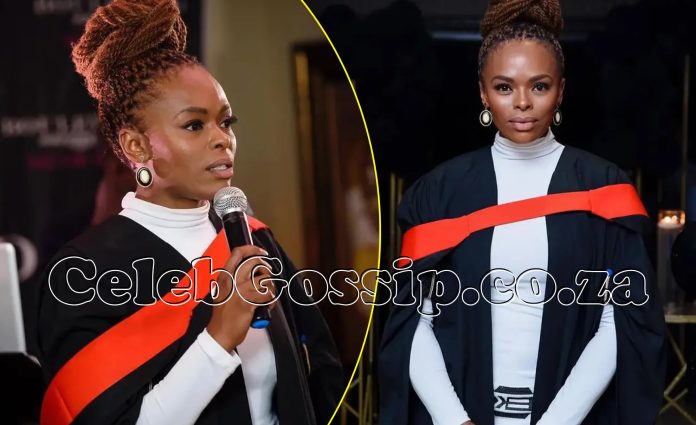 Radio presenter and former Idols SA judge Unathi Nkayi has seemingly revealed her educational aspirations.
"But education looks good on me……..signed future, Dr Nkayi [sic]" the STAR 91.9 FM presenter wrote in the caption of a photo of herself in a graduation gown.
It is reported that Unathi has graduated with a doctorate degree, however, Celebgossip.co.za is yet to independently verify these claims.
Her achievement, she said, lived up to the name she was given by her paternal grandfather – Fundiswa (to be taught). She added that growing up, she did not understand "the generational curses he was breaking at that moment".
"As the only grandchild he named, something I brag about to all my cousins and sisters, I now understand what he was doing for our family," the former Idols SA judge continued. "His son and his wife, my parents, left SA for 11 years and raised us out of the country for that specific reason. Because my grandparents wanted all of us to be educated at a time when apartheid wouldn't allow it for us Black people. My parents only saw their parents twice in this time because of this sacrifice."
"Now, I love my middle name…….still hate all the abbreviations, Fura, Mafundi, Fufu, etc."
Many thought she would not survive after being suspended from Idols SA as a judge, but the actress seems to be doing well and has recently graduated. Not long ago, she was invited to DJ Oskido's graduation, where she shared a powerful and inspiring speech about the importance of education. Well, it looks like she is not only a motivational speaker but also practices the words she advises people to practice.
recommended by
Unathi Nkayi's educational qualifications
Award-winning star Unathi Nkayi is an academic genius with several degrees to display. She posted on her Instagram that she comes from a family that valued education resulting in her moving out of South Africa for better education.
Unathi is a celebrated journalist making strides in the co-operate world. She holds a degree in Journalism from Rhodes University. She also has a degree in International Media Studies from the University of Utrecht in the Netherlands. Unathi is the actual definition of beauty with brains.