Former eNCA weatherman Joel Guy Chabata joins SABC
Former eNCA weatherman Joel Guy Chabata joins SABC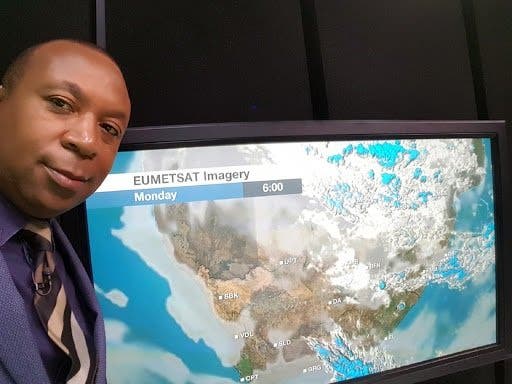 Popular and loved weatherman Joel Guy Chabata will be returning to the small screens as SABC has hired him as a weatherman.
The Gauteng Weather Twitter page announced the news on Twitter on Sunday, 3 October.
They wrote: "Breaking: SABC scoops veteran forecaster @joelguy, after eNCA's abrupt axing of all meteorologists in April. Welcome back to the silver screen, Joel!!!"
Joel also posted a photo of himself and announced he is coming back. He, however, didn't mention where he is going to be working.
"BREAKING: Back in the craft. Details to follow," he wrote.
Earlier this year, eNCA announced they were letting go of their meteorologists.
Fans of the weatherman were heartbroken when the channel announced they were letting him and eNuus meteorologist, Annette Botha, go.
In April, Joel shared a photo of himself, carrying a box and leaving after being on the channel for 12 years.
He wrote: "So this is it. End of the road with #eNCA. It was good having your support #SouthAfrica while giving you the weather on your tellies for the past decade. Looking forward to new chapters and adventures. ADIOS!"
People celebrated the news about his comeback and congratulated him.
"We love that for Joel," wrote Melusi MD.
Another user Tshepi Moe wrote: "Great news! Welcome back @JoelGuy_!"
🔴 BREAKING: SABC SCOOPS VETERAN FORECASTER @JoelGuy_ , AFTER ENCA'S ABRUPT AXING OF ALL METEOROLOGISTS IN APRIL. WELCOME BACK TO THE SILVER SCREEN, JOEL!!!

— Gauteng Weather (@tWeatherSA) October 3, 2021
BREAKING: Back in the craft. Details to follow.

After 27 | The ANC | Bafana Bafana | Pravin | Baxter | Chief Justice | Lukhanyo Am pic.twitter.com/pGysIGEsW8

— Weather Master #Sangomasezulu (@JoelGuy_) October 3, 2021