Fikile Mbalula under fire for flexing his expensive Rolex & diamond ring
Fikile Mbalula under fire for flexing his expensive Rolex & diamond ring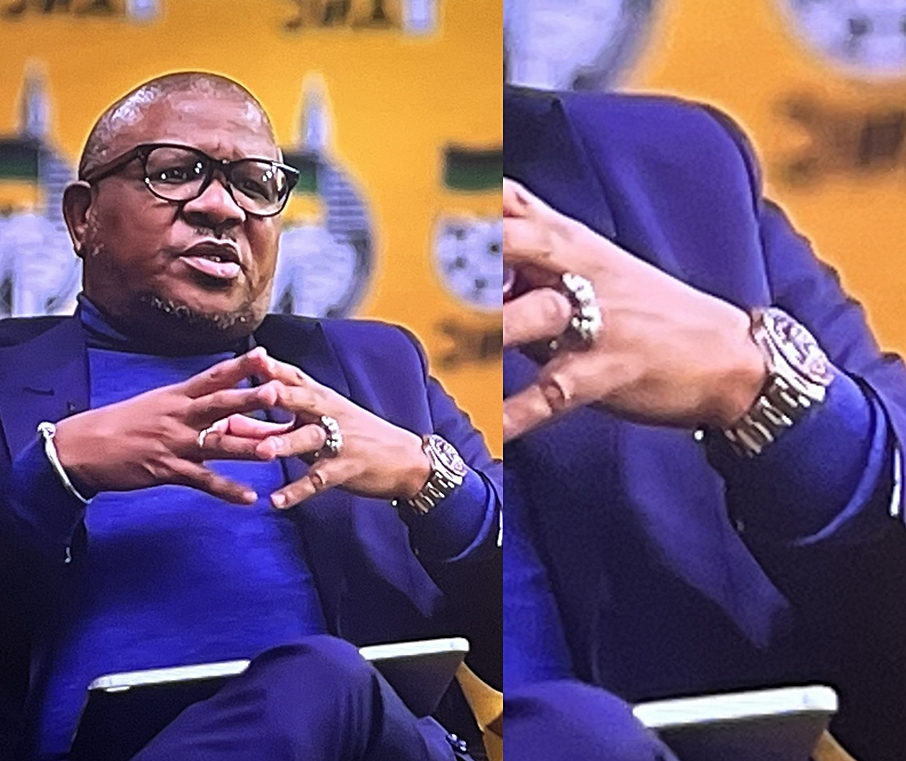 Ex-cabinet minister Fikile Mbalula has received backlash for his pricey watch, whilst billionaire businessman Johann Rupert has been praised for wearing a "simple" designer timepiece.
Mbalula who appeared on eTV's My Guest Tonight this week has been admonished for flaunting a Rolex watch worth close to a million. In stark contrast, Rupert worth over R200 billion was spotted in a piece a fraction of the price.
According to multiple Twitter users, Fikile Mbalula who spoke to Annika Larsen sported a Rolex GMT Master II.
According to Chrono24, variations of the Swiss watch are priced between R300 000 and R2 million. Additionally, Mbalula also wore what appeared to be a diamond ring.
On #MyGuestTonight with Annika Larsen, Fear Fokol appeared to be wearing a Rolex, I could be wrong but if I'm right – that's over R330k.

Where do I submit my resume to Government? pic.twitter.com/uf4gA3Fbyp

— S (@SunflowerSrina) June 8, 2023
It's not the first time we've seen "Bra Fiks" wear a designer watch. In March, he posted pics of a similar watch, worth almost R1 million.
One tweep shared at the time: "South Africa's former Minister of Transport Fikile Mbalula was spotted wearing a watch worth R 827 823.
"The value of his watch could build schools in the Eastern Cape and proper toilets for the children. What a waste of taxpayers money!
And many more called for a lifestyle audit following the lavish show of luxury…
@LibertarianZA: "The ANC can barely pay its staff, but their secretary general is wearing jewellery more valuable than the average South African's house. This sort of thing should trigger an immediate lifestyle audit."
@MathewScraton: "He has to show the taxpayer what their money is buying"
@hlnnrj: "He had to better the Michael Kors sweater…"