Fashion designer in hot water over former Miss SA's traditional wedding dress
Fashion designer in hot water over former Miss SA's traditional wedding dress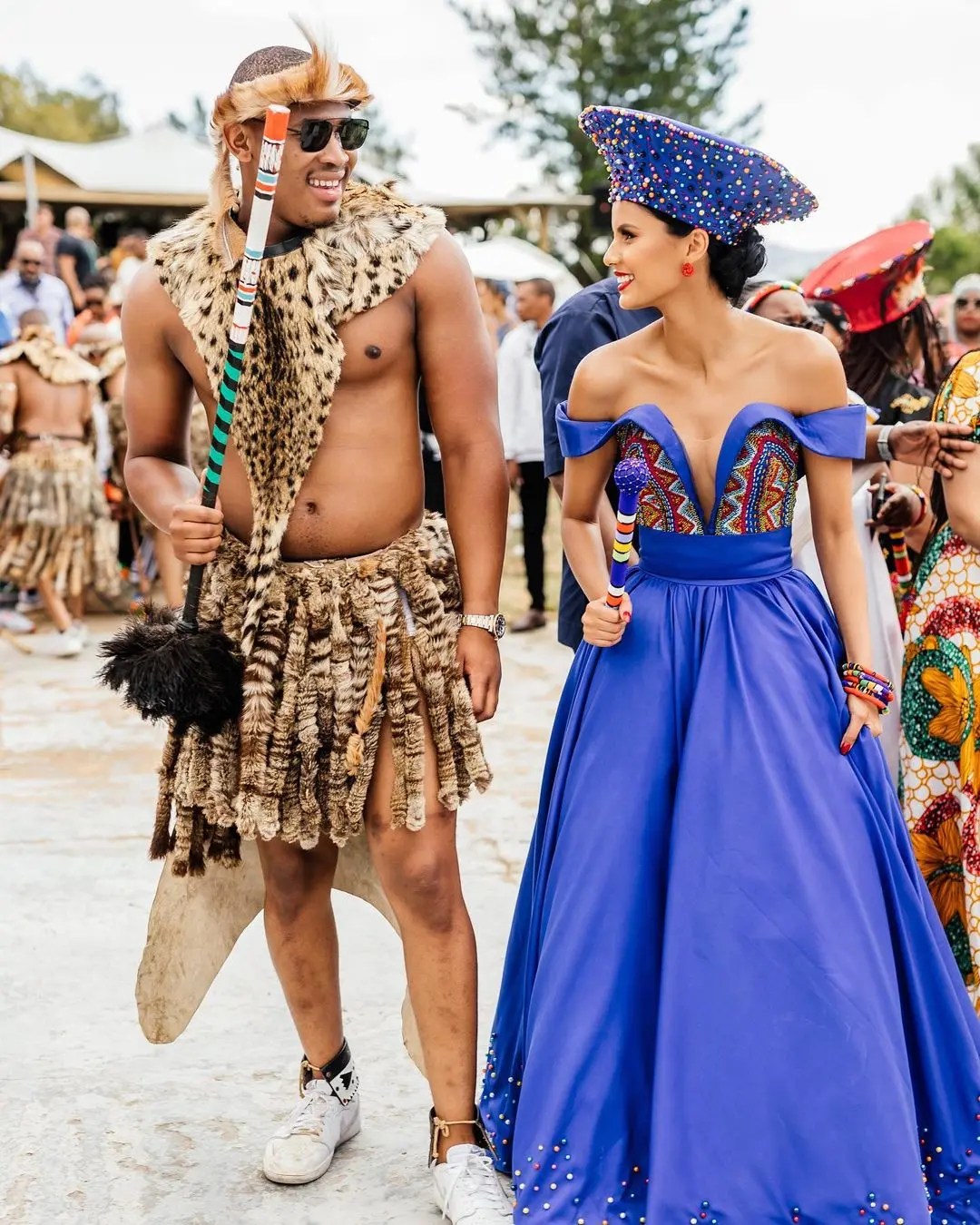 Fashion designer Bayanda Khathini has come under fire with Sello Medupe of Scalo Designer, over former Miss South Africa Dr. Tamaryn Green's umembeso dress.
Bayanda is accusing him of intellectual property theft. This follows after he apparently re-designed the stunning vivid blue gown with traditional beads that Tamaryn Green wore at her 'umembeso' this past weekend.
The dress stole the hearts of many people on social media and people haven't stopped singing his praises for the design. Little did they know that he would be accused of being a copycat.
Bayanda caught wind of the design and he was not happy. His lawyers have filed a letter of demand to Medupe. "Our client discovered this design infringement when former Miss SA, Tamaryn Green, appeared on social media for her umembeso ceremony. As the creator of his worker, our client has a right to copyright protection of which he does not need to register.
Bayanda Khathini serves Sello Medupe of SCALO.

Bayanda Khathini claims Sello stole his design of the dress that was worn by Tamryn Green for her traditional wedding.

Bayanda is demanding a written apology. pic.twitter.com/PioKBJIaVy

— Musa Khawula (@khawula_musa) October 14, 2021
"The protection arises automatically as his work is original and is recorded in a material form," read a statement from Khathini's lawyers.
They are also demanding a written apology from Sello and have ordered him to remove pictures of Tamaryn Green wearing the dress on his social media platforms. Sello has not commented on the matter.
Tamaryn and her husband Ze had their Umembeso this past weekend and it broke the internet . She shared that their day started with showers and they were receiving blessings. "Woke up on this morning to the sound of rain and I remember thinking this is God showering us with His blessings. It might be a muddy day but so it will be. Then at 11am, just as our event started, the clouds gave way and the beauty of my home town revealed itself as the sun shon down on us. I'm so happy to have introduced my new family and friends to Paarl."
In the industry, intellectual property theft is very prevalent. Designers and stores often steal designs from other reputable fashion houses. Zara was recently accused of copying Laduma's work who owns Maxhosa. Thebe Ikalafeng went on an Instagram rant, calling out the iconic store for shamelessly copying a design pattern on their socks.
"There's a big difference between taking inspiration and illegal expropriation. #Maxhosa designed and launched this #Khanyisa cardigan and sox (slide left) range globally 2014. In 2018 @zara shamelessly copied the design as is and put in retail in earlier this month."
"But our protected intellectual property rights should be respected as much as we respect that of other global brands. #Maxhosa and all Africans should not take this lying down. If they can do this to a relatively well known brand like @maxhosa you can imagine what they've been doing to lesser-known designers with little resources or recourse," he shared.