Everything you need to know about Beyoncé and JAY-Z's 3 Kids
Everything you need to know about Beyoncé and JAY-Z's 3 Kids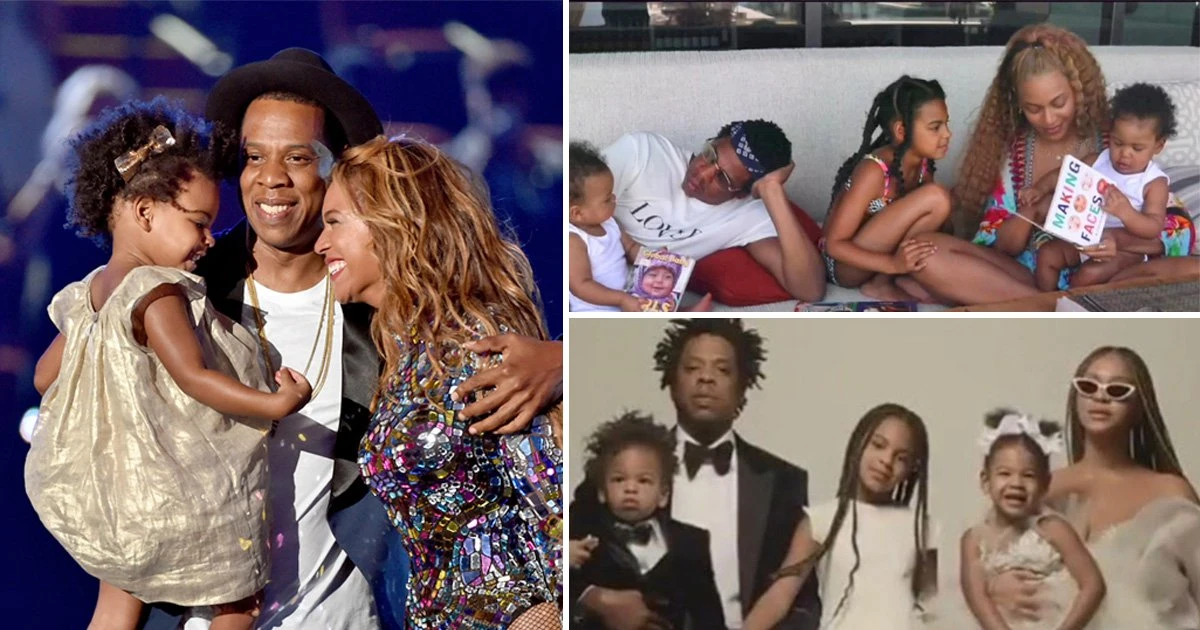 Beyoncé and JAY-Z are one of Hollywood's most notoriously private couples, but they're even more hush-hush regarding their three children. The couple, who tied the knot in 2008 after dating since 2000, welcomed their first child, daughter Blue Ivy, in January 2012. In 2017, they were joined by twins Rumi and Sir.
In a rare appearance on an episode of Kevin Hart's Hart to Heart series on Peacock, JAY-Z spoke candidly about how much he tries to prioritize taking time away from music to be with his three kids: "Time is all you have. That's the only thing we control. It's how you spend your time. You're reckless with your time before, you're just all over the place and then you have to … What are you leaving your house for.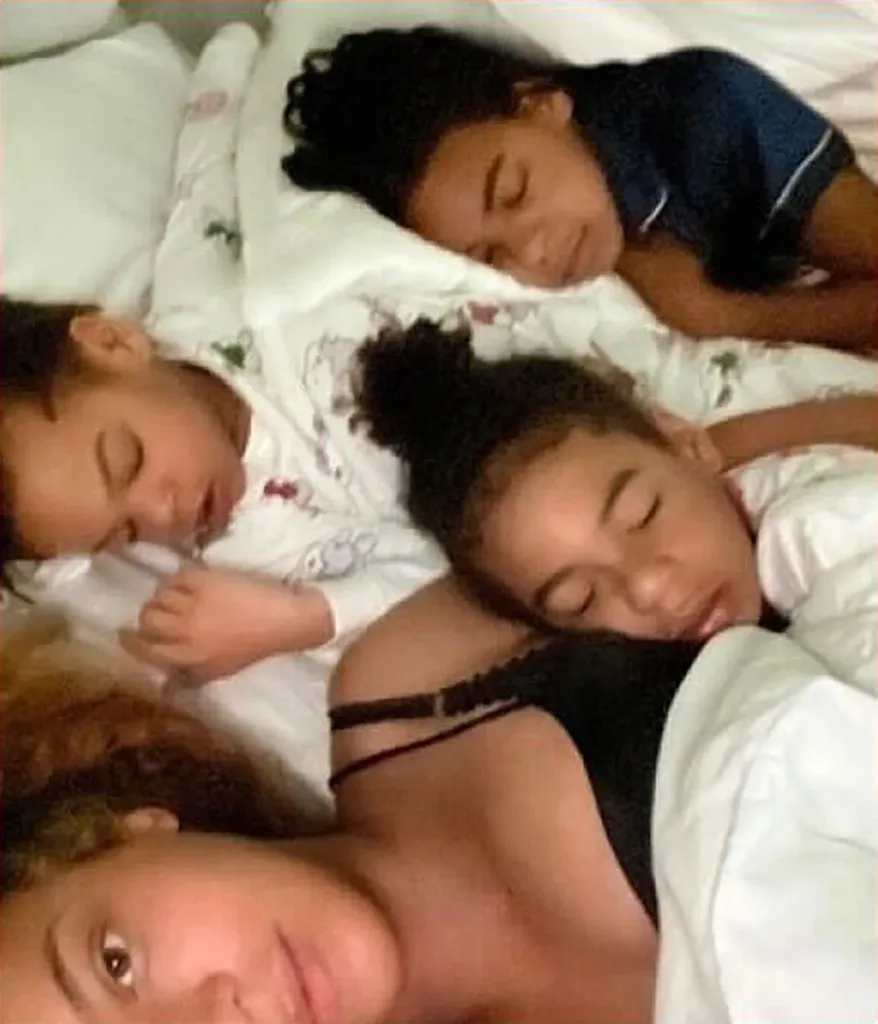 He continued, "Every second that you spend, you're spending away from the development of these people that you brought here, that you love more than anything in the world. So what are you going to spend that time on? So that changed a lot. That changed practically everything for me."
Similarly, Beyoncé has also spoken about how "challenging" it can be to strike a balance between motherhood and her career.
I think the most stressful thing for me is balancing work and life," the musician shared with Elle in 2019. "Making sure I am present for my kids — dropping Blue off at school, taking Rumi and Sir to their activities, making time for date nights with my husband, and being home in time to have dinner with my family — all while running a company can be challenging.
In November 2022, Beyoncé shared a rare family photo from a Halloween photoshoot where she, all three kids and JAY-Z dressed up as characters from Disney's The Proud Family. Family every single day and night," she captioned the image on Instagram.
ad
From the arrival of their first child to the internet-breaking announcement of the twins, keep scrolling for a breakdown of Beyoncé and JAY-Z's three children. The first-time parents welcomed their daughter Blue Ivy in New York City on Jan. 7, 2012. They formally introduced her to the world with a series of photos the following month.
The former Destiny's Child member first revealed her pregnancy on August 28, 2011, at the MTV VMAs in Los Angeles while cradling a bump on the red carpet. During her "Love on Top" performance, she told the audience, "I want you to stand up on your feet. I want you to feel the love that's growing inside me. Blue has already started following in the footsteps of her musical parents. When she was only two days old, her vocals were featured on her father's song "Glory," which earned her the title of a Guinness World Record holder for being the youngest person to have a song appear on a Billboard chart.
In October 2022, Blue joined her parents at the 2022 Wearable Art Gala in L.A. During the event, Blue bid over $80,000 on a pair of Lorraine Schwartz diamond earrings, which her grandmother and host of the event, Tina Knowles, was wearing that night. In a video, Blue was seen waving her paddle while wearing a blue dress. She was eventually outbid by the founder of Mielle Organics, Monique Rodriguez, and her husband Melvin, who bid $105,000 on the earrings.
After a four-year hiatus, Beyoncé returned to the stage for an epic performance in Dubai in January 2023. Blue made a special appearance during the hour-long set to sing a duet of "Brown Skin Girl." The mother-daughter duo were impeccably dressed for the performance — Blue in a red, sparkling ensemble and Beyoncé in a canary yellow corset-style gown.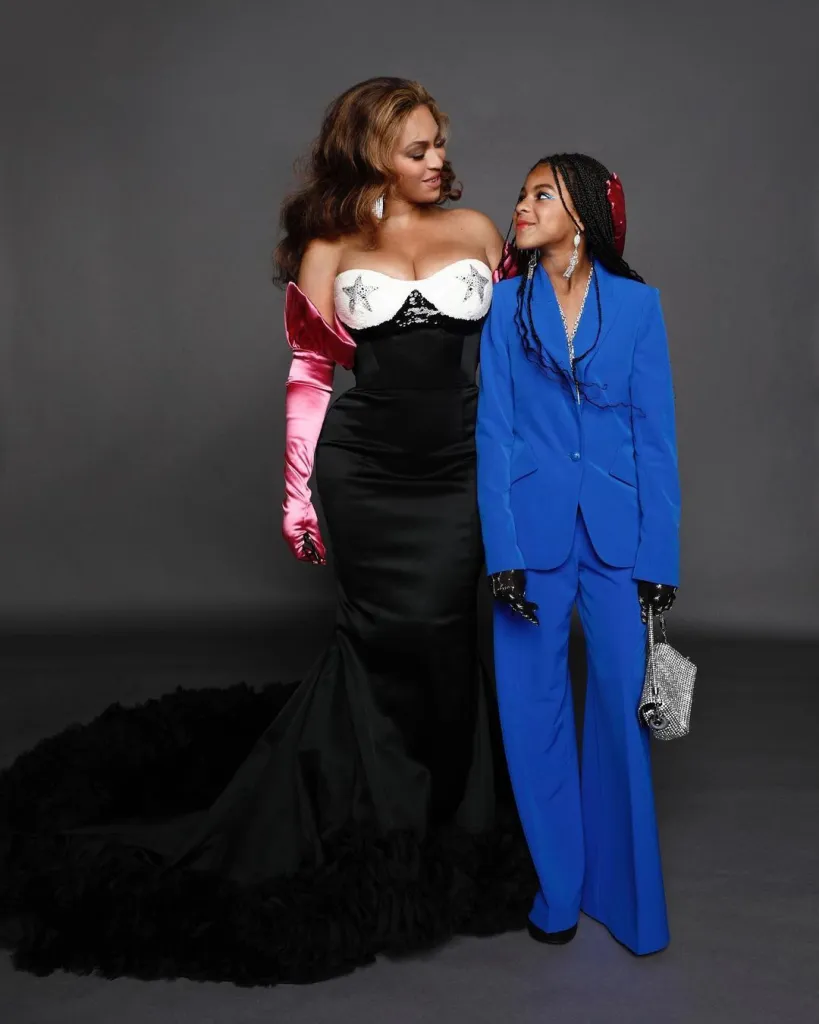 Blue made another public appearance at the 2023 Super Bowl with her dad a few weeks later. The father-daughter duo were seen arriving in all-black outfits with graphic T-shirts and sunglasses. JAY-Z also served as the ultimate Instagram dad at the event, taking photos of Blue in the Eagles' end zone ahead of the game.