Emtee trends after Prince Kaybee's side chick leaks his n#des – Here is why
Emtee trends after Prince Kaybee's side chick leaks his n#des – Here is why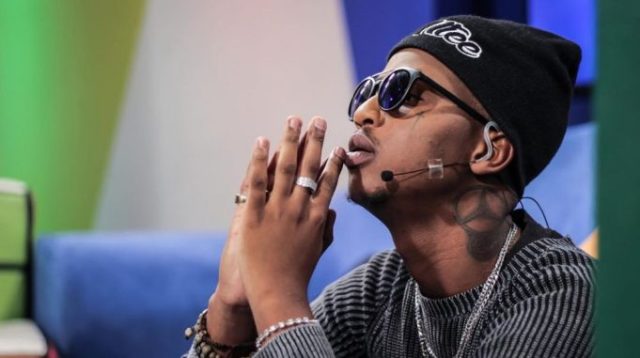 South Africans appear to be blessed with retentive memories, as Emtee trends after Prince Kaybee's side chick shared a photo of his eggplant.
The photo which is now taken down by the side chick has caused huge uproar on social media.
The music producer admitted to cheating on his girlfriend, Zola, and later apologised publicly on social media.
However, the eggplant reminded South Africans of Emtee's own, which also surfaced on social media years back.
The rapper's d!ck surfaced on social media after he mistakenly pointed the camera's to his eggplant while urinating during a Live chat with fans on Instagram.
Check out tweeps reactions below:
First it was Emtee, then it was Melusi Gigaba now it's Prince Kaybee 😂 who's next? pic.twitter.com/KGnl0AJQu7

— Lando Lo 👑 (@KingLandoSA) May 4, 2021
Emtee when he sees Prince Kaybee's Dengese pic.twitter.com/WSCcG2lpNE

— knife-edge follower (@elton_newton) May 4, 2021
EMTEE ryt now. 🤣😂 "#princekaybee #emtee pic.twitter.com/KIsI7MWJQl

— richie_16v___ (@richie16v___) May 4, 2021
after seeing that thing 😭😭😭😭 Zola must stay with Prince ro moreng rona re tsamaya le bo Emtee 😭😭 e krempile ke serame pic.twitter.com/FenysyvFFd

— Mickey Van Peeblez (@van_peeblez) May 5, 2021
I knew what was going on immediately when I saw Emtee , Giggaba and prince kaybee on the trend list is South African twitter the best or what😂😂😂😂 pic.twitter.com/uksIw0VOdZ

— JabulaniMacdonald⚡ (@Jabu_Macdonald) May 5, 2021
Emtee after seeing Prince Kaybee 's dick 😂😂 pic.twitter.com/qGtBkIjuzI

— Mitchell Brown (@iam_mitchell01) May 5, 2021
People keep associating Prince Kaybee dick with Emtee's mini Cooper.

What if it has grown up since last time we saw it😂😂😂😂😂 pic.twitter.com/u0PADVMrbt

— #NativeOfBelaBela (@tsheko2020) May 5, 2021