Dr Musa Mthombeni and wife, Liesl Laurie give trolls a cold shoulder
Dr Musa Mthombeni and wife, Liesl Laurie give trolls a cold shoulder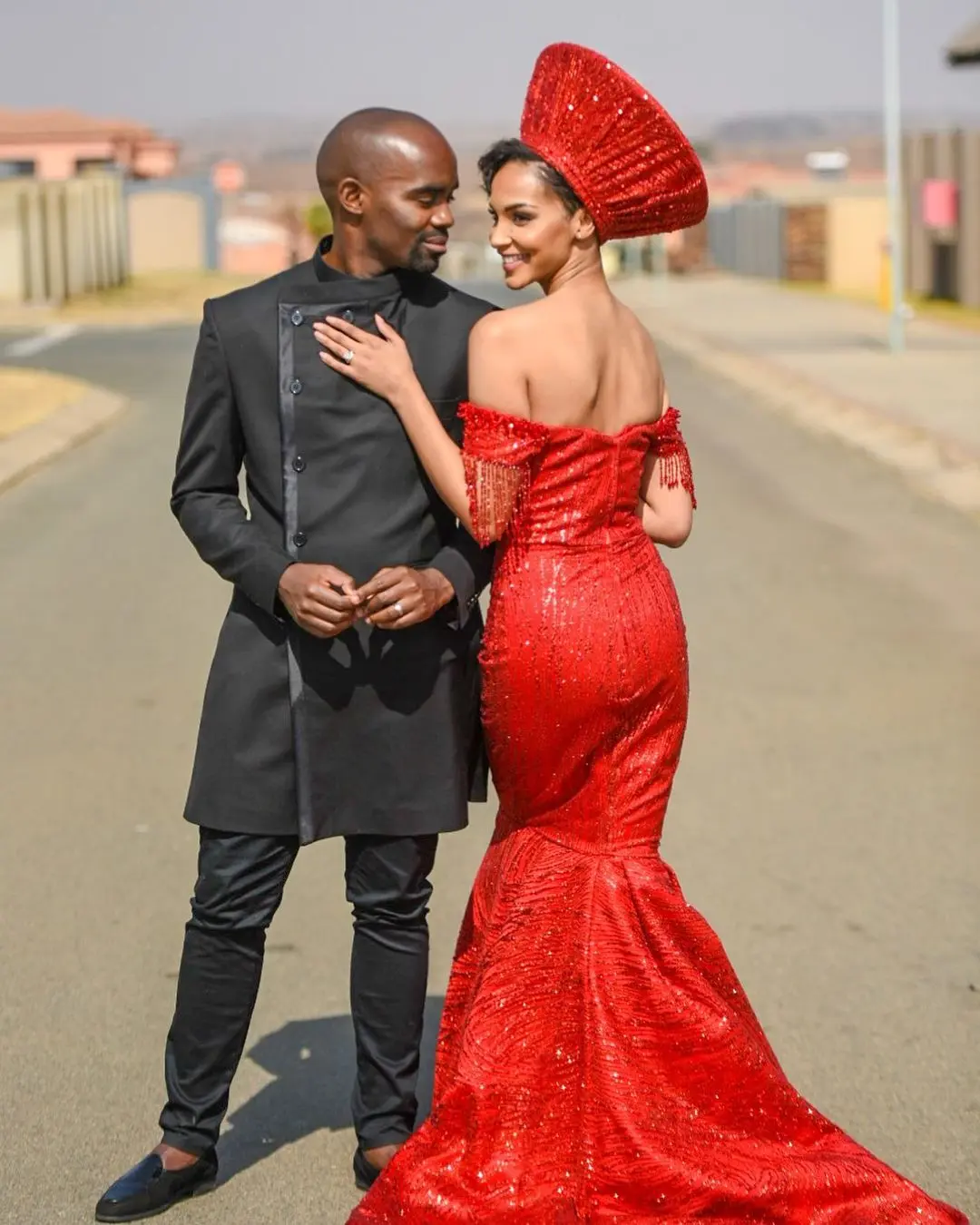 Dr Musa Mthombeni and former beauty queen Liel Laurie announced their relationship and sealed their union with their nuptials back in August 2022. Initially when the news became public, the scandal was over the fact that Liesl had seemingly moved on quickly from rapper, radio personality and Idols SA frontman ProVerb.
Then soon after it was the matter of Musa Mthombeni's "type" as she continually seemed to have a specific interest in the more vanilla-looking brown skin girls rather than diversify his tastes. But even when these trending issues settled, tweeps still attempted to now drag Dr Musa for how much he loves his wife.
It started on Instagram when Liesl took to sharing an image of herself dressed in red for one of her friend's birthday parties. Dr Musa then took to the comments section and flooded the comments section with adoring and somewhat comical reactions to his wife looking ravishing in red.
Fast forward, someone took screenshots while the comments section was just filled with comments from Dr Musa suggesting that it was cute for Liesl to have someone that loves her like that. But it would not be Twitter if someone did not go on to ruin the fun. This is as comments suggested that Musa was a simp and was Team Doing Too Much.
This is so cute👌🏻👌🏻👌🏻 pic.twitter.com/0f7m9IjN0X

— Mlungisi (@Mlu__N2) September 29, 2022
Your the one who's lying now

— Unattainable Love💙 (@SmartyPamela) September 29, 2022
This is why relationships don't work out, the treatment you gave her when you were courting, is what she fell in love with. She didn't fall for a man getting used to her or acting like she won. Not many would complain about always being reminded of how much they're loved

— happierthanever (@potatoskintoot) September 30, 2022
It did not take long until there was a debate on whether it was appropriate for a man to love his wife as publicly and loudly as Musa loves Liesl. Even the likes of Ntsiki Mazwai got in on the debate sharing her polarised views on the matter.
Not really…. I would DIE if I had a man othanda amehlo 😭😭😭😭DIE. This is definitely not my type of relationship….. But yes we can be happy for them without wishing to be them akere? ❤️ https://t.co/8vnB9kAnXp

— BEVUYA Now Available 🎉🎶🎼 (@ntsikimazwai) October 1, 2022
While social media went on to write thought pieces on Dr Musa and Liesl's relationship, dissecting everything from whether his actions are too much or whether it is warranted and those offended are just not used to seeing a healthy and happy black love between a young couple.
You would wonder what did Dr Musa and Liesl have to say on the matter. It seems that the married couple chose their peace and went on about their business. More than that they were part of the first flock of South Africans to go to theatres to watch the much anticipated Thuso Mbedu' The Woman King.
Taking to social media they shared stories via their Instagram. One of the touching stories from their movie-night was of Liesl seasoning Dr Musa's popcorn for him. The story highlighted just how unbothered the loving couple is about what is going on on social media. It showed that their focus is their marriage and ensuring their happiness for and to one another. A fact which again, should be celebrated rather than mocked and made to be a more complex situation than it actually is.