Donell's ex-girlfriend Reokeditswe denies allegations that she was abusive too
Donell's ex-girlfriend Reokeditswe denies allegations that she was abusive too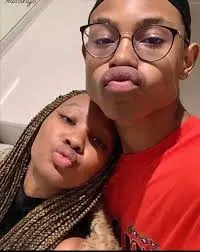 Reokeditswe Makete, who is the ex-girlfriend of alleged abuser Donell Mbele, has denied all allegations that she abused him too.
Donell appeared in court for physical assault and his case has reportedly been moved to February 2023.
"I'm pissed as f***k 'cause if I had to speak the truth about the situation yall would be shaken!"
According to the blog, a friend of Reokeditswe's claimed that she is very short-tempered and suffers from depression.
It is also alleged that her family booked her into a mental institution to deal with her alleged depression. The friend alleged that she spat on his face once when he hugged another girl.
"We all used to hang at Monte Casino. She does not like it when other girls talk to Donell. She once spat on his face for hugging another hun. He sent a text to say she is starting again. I tried to call but that is when she was swearing at me accusing us of dating, they had no clue I was still listening because Donell did not hang up. I remember him begging her not to touch his face until she bit him on the lip," the friend told the publication. "We begged them so many times to leave each other alone, especially after she once called her family and friends claiming that she had been kidnapped, meanwhile she took an Uber to go see him. Donell thought it was just drama. She is a nice girl, but we all know and she knows the truth."
Reokeditswe then rubbish the report saying: "The lies in the fu*ken media! Wooooooooow"