DJ Zinhle shows off her cooking skills – WATCH
DJ Zinhle shows off her cooking skills – WATCH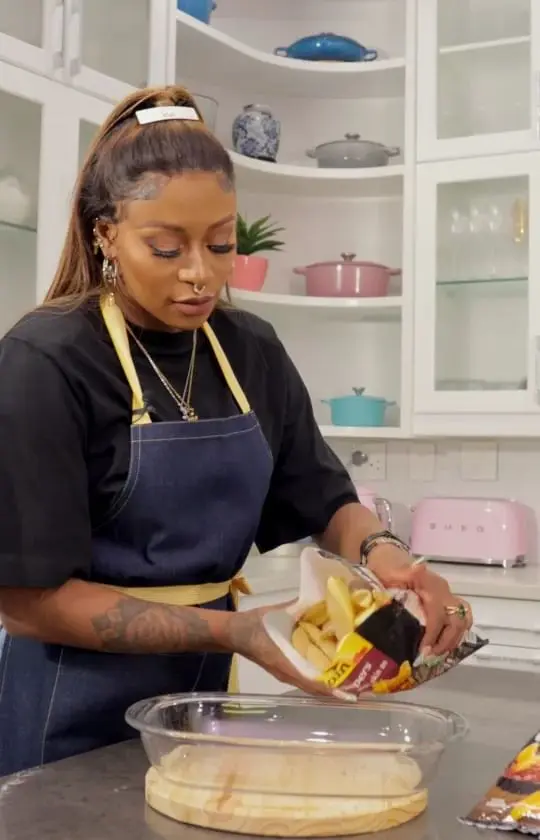 DJ Zinhle is one of the most successful celebrities in our country. She has a cabinet of awards as a testament to her hard work in the entertainment world. Zinhle seems to have grown interest in cooking and being a family woman. She recently shared a video of herself preparing food for her kids and husband in the kitchen.
Zinhle posted a video that got Mzansi talking whilst she was cooking. Many know her as a business lady who has a tight schedule to be in the kitchen. She always posts videos of her helpers cooking for her family, and she will be just there sitting whilst instructing them on how she wants her meal to be prepared.
Zinhle took to Instagram to show off her cooking skills to Mzansi. She was dressed like a professional chef, and she looked all gorgeous. In the video, she prepared breakfast for Kairo and Murdar because her helper was not around. The reasons why her helper was not around during working hours are not known; the good thing is that Mzansi had to see Zinhle cooking for the first time. In Zinhle's video caption, she wrote:
It's only 2 hours after Zinhle shared her video cooking, but it has over 30k viewers. Mzansi is shocked that Zinhle can cook after the rumours that made rounds on social media that she couldn't cook. After Zinhle called it quits with AKA her ex-husband, rumours speculated that she was dumped due to her cooking skills. Well, it seems like the rumours are not accurate as Zinhle has to impress Mzansi with her excellent cooking skills.