DJ Maphorisa responds to disrespectful Mac G – Video
DJ Maphorisa responds to disrespectful Mac G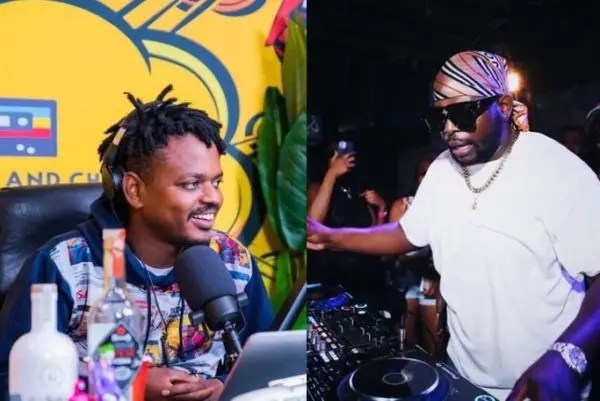 Straight from his twar with Davido, DJ Maphorisa has come out guns blazing to address Mac G following his statement that he is an Amapiano gatekeeper.
The controversial podcaster uttered the shocking claims in an episode of Podcast and Chil with Mac G, and made it clear that he is not scared of Maphorisa.
It is without a doubt that Amapiano has taken the whole world by storm. Maphorisa has contributed immensely to the growth of the genre. However, lately, there has been a debate about who made the genre big.
Maphorisa is accused of being a gatekeeper of the genre following his saga with Dr. Malinga. Mac G did not mince his words when he took a jab at Maphorisa.
"Let me tell you a story about gatekeeping. There is someone who told me that Maphorisa is going to be mad that I am dropping an EP, and I did not ask for his approval."
"Now, I must ask Maphorisa before I drop an EP. They said Maphorisa is going to be mad because I did not ask for his approval because he is a gatekeeper."
"He is not my father, broe. F**k him. He can eat a dick. If he f***s around, I won't even drop an EP. I'll drop an album," said MacG.
Maphorisa has responded to Mac G and said that he has never belittled him. "@MacGUnleashed wats the problem we come far boy neva even once disrespected u why this wats the problem????," he tweeted.
I think we give this MAC-G guy too much freedom, He's now disrespecting abo Grootmans… chill MacG we can take that from you, we gave you and we are capable of taking relax and do what you good at! pic.twitter.com/EORxCbSsSC

— Kabelo Malesa (@KabeloMalesa4) September 14, 2022
Maphorisa has also cleared his name following claims that he is the gatekeeper of Amapiano. "I see u dnt get it no one owns Amapiano anyone can do it n win. Good example look at Uncle Waffles one trending Adiwele video the rest was history. She did it alone ohh look at Costa Titch his doing alone n winning. Stop saying I am a gatekeeper," he tweeted.
i see u dnt get it

no one owns amapiano anyone can do it n win

Good example look at Uncel Waffles one trending Adiwele video the rest was history

She did it alone

ohh look at Costa titch his doing alone n winning

stop saying im gatekeeper 🤓 https://t.co/xPAtmKIjvA

— Madumane (@DjMaphorisa) September 14, 2022