DJ Maphorisa & his bae, Thuli Phongolo resolve their matter privately
DJ Maphorisa & his bae, Thuli Phongolo resolve their matter privately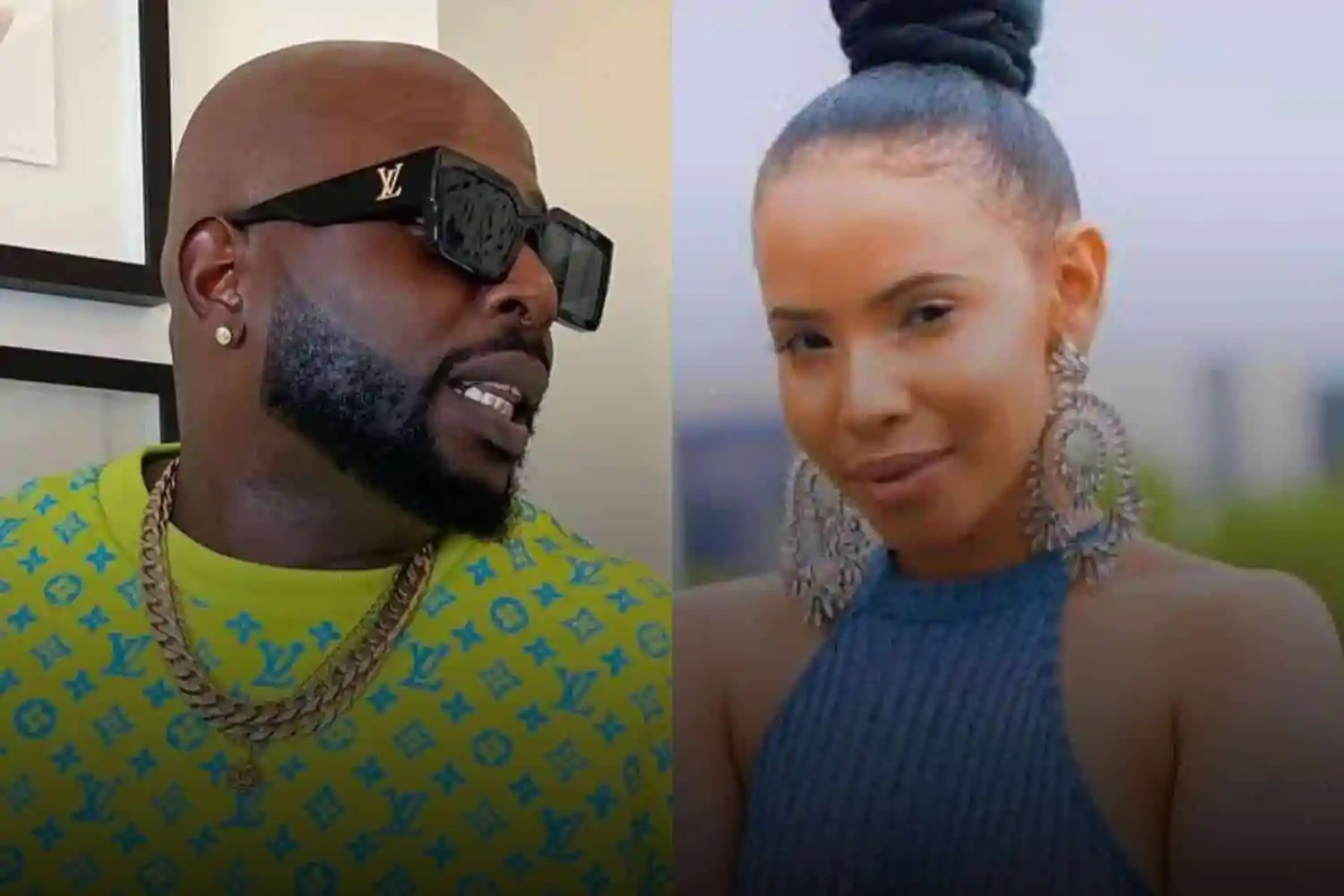 South African award-winning DJ Maphorisa and his girlfriend Thuli Phongolo, have broken their silence following assault allegations leveled against him by her.
Last week, the Amapiano DJ appeared at the Randburg Magistrate's court on a charge of assault with intent to cause grievous bodily harm. In an unexpected move, Phongolo dropped the charge and the DJ was released on R4000 bail. While social media is still abuzz following the damning allegations leveled against the DJ, the pair has released a joint statement to set the record straight.
Both parties said they are aware of the circulating reports about the incident and are handling the matter privately through their respective legal and management teams.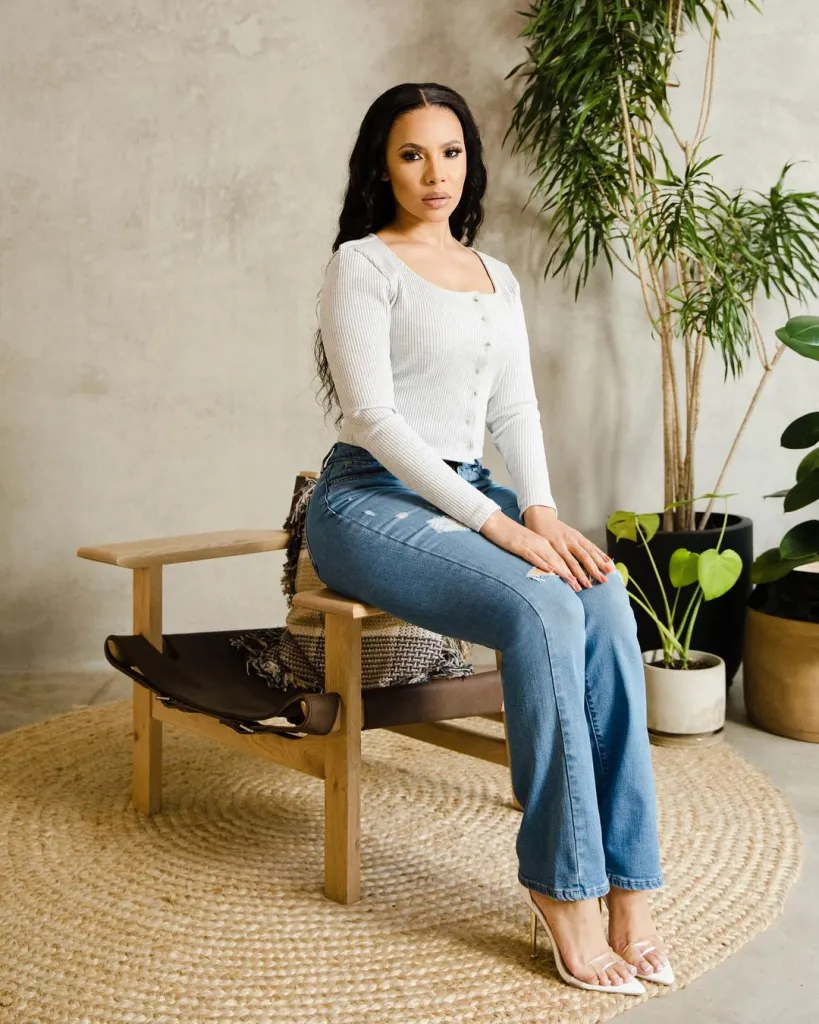 "Being public figures, it is unavoidable that the public, media, and their respective commercial partners all have an interest in this matter. Accordingly, they have decided to release this joint statement as the official and exclusive statement in the matter.
"The matter has received mixed public attention, causing a great deal of emotional stress on both parties involved. It is on this basis that the parties have elected to resolve this matter privately through their respective management and legal teams. Consequently, Phongolo has since withdrawn the charges laid against Sekowe."
They continued to say "Both parties have noted with concern, the disparaging, defamatory and (in some instances) untrue remarks, statements and reports emanating from the incident and view these in a serious light. The parties reserve their rights to individually pursue legal action against people making defamatory and/or false statements in relation to this matter."
Sekowe and Phongolo's representatives said the pair "wanted to resume their respective fields of work after the now-concluded private resolution of this matter ".
According to reports, the National Prosecution Authority (NPA) confirmed last week that the has Thuli had the withdrawn assault charge against Maphorisa.
Check: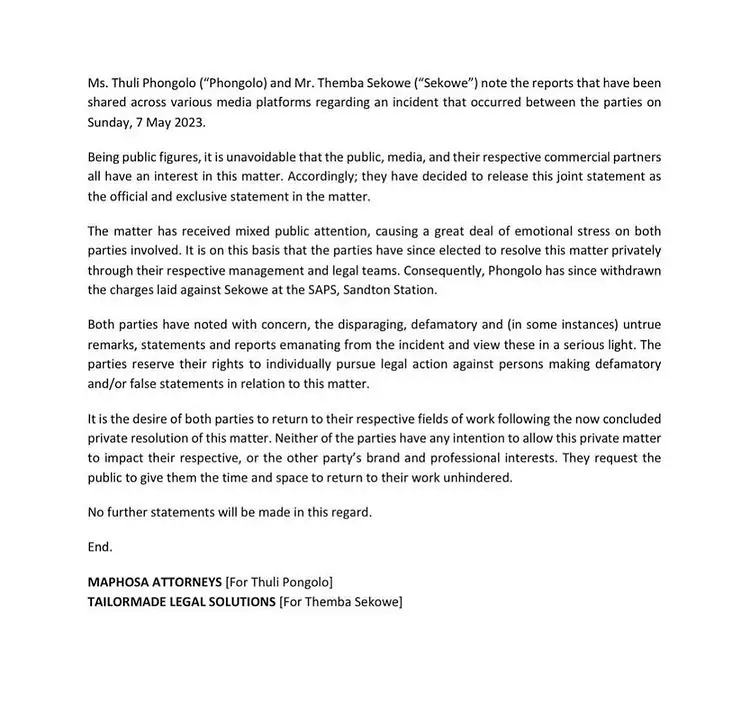 "It is alleged that on Sunday, 07 May 2023, the accused assaulted his girlfriend, Thulisile Phongolo by hitting her open hands and strangled her after she confronted him about an incident that happened the previous night where he was booked to perform. The compliant laid a charge with Sandton South African Police Service (SAPS) and acted prompt and arrested the accused. Phongolo filed a withdrawal statement and was before court to which she agreed for the accused to be released on bail. The court set bail at an amount of R4000" wrote Phindi Mjondwane, NPA Spokesperson, Gauteng Local Division
Tweeps have reacted to the joint statement.
In a nutshell, it's okay for a popular guy with money to physically abuse a woman or women. Okay wena Thuli.

— Academic Research Consultant 👩‍💻 🇿🇦 (@MmatlouLebogang) May 15, 2023
In summary

Yes he did beat her up but she is withdrawing the case and if any of you talk about it again you will get sued ..

— The Instigator (@Am_Blujay) May 15, 2023
Media only reported what you wrote in your statement with the police, what defamation are you now talking about?. He moered, u opened the case and withdrew it .

— Bra Stan (@BlckMediaHouse) May 15, 2023