DJ Maphorisa and Kabza talk about their first jobs and hustles – Video
DJ Maphorisa and Kabza talk about their first jobs and hustles – Video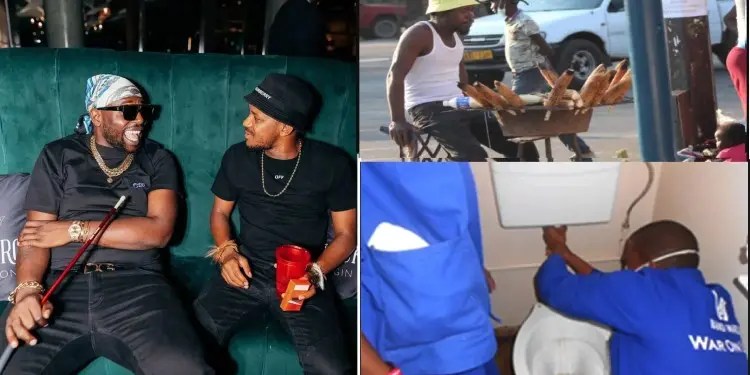 Kabza De Small and Dj Maphorisa discuss their hustles before making it big time in the music industry.
Kabelo Motha, also known as Kabza De Small, along with his industry peer and friend, Themba Sonnyboy Sekowe, also known as Dj Maphorisa, took time to interview. In the interview, they spoke about their hustles before the music industry success. Both the gentlemen come from humble beginnings, and judging from their discussion, they've been hustling for quite some time now. From just the snippet of this interview, you can gather that they both have a superb work ethic, and it's something embedded in them.
The King of Amapiano, as he has been hailed, used to work for the municipality as a grass cutter. He also landed himself some plumbing jobs fixing blocked drains. When he started working, he was 17 years, and yes, he used to wear a municipal worker overall uniform.
Being 17 years old and finding a job was not easy, especially seeing that most of his peers were having fun enjoying being young at the time. Kabza pulled through and persevered through the job.
Maphorisa started his first business in school selling sweets. He sold five types of sweets and would make around R150 per day. After high school, he sold kotas. A Kota is a quarter of bread with achaar, fried chips, cheese and various cold meats like polony, Russian, Vienna and more.
Whilst running his Kota business, he'd face typical business challenges. His business suffered during some lunches as the other pupils preferred buying food from the tuck shop. At some point in his life, he got addicted to gambling in dice games, and luckily he managed to quit and focus on his business.
oth musicians come from humble backgrounds. They both studied in township schools and struggled to get to the top. Once they made it, they made life easier for their loved ones. One thing about them, they haven't forgotten where they come from.