Dineo Ranaka slams Khanyi Mbau over her sangoma's claim
Dineo Ranaka slams Khanyi Mbau over her sangoma's claim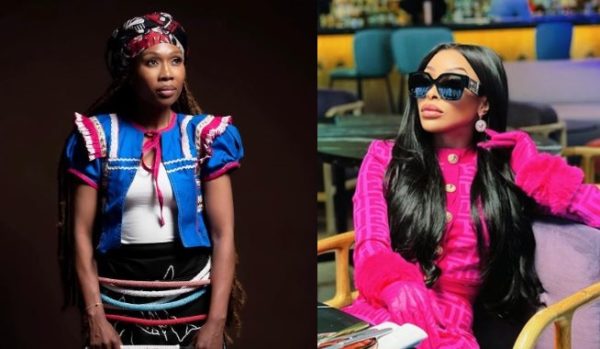 Dineo Ranaka slams Khanyi Mbau's take on the modern sangomas.
The radio personality who is sangoma urged other traditional leaders to snub the actress' words.
Days ago, Khanyi claimed that most urban sangomas didn't have any calling; she said most of them mistook their calling for anxiety.
"Urban sangomas. You do not have a calling. It's anxiety. This is the most anxious generation. That's why we have so many sangomas," she wrote.
Dineo said Mbau lacked knowledge about traditional healers.
"Umuntu ongakaze angene ephehlweni will have a lot to say about what they don't know. Likewise, a person who has never walked a day in your shoes will have tons of advice on how you should tie your laces," the DJ wrote.
She further urged sangomas to live as they are guided without being bothered by noise.
"Thokozani modern sangomas, healers and those in the process of their own healing. Thokozani nonke with anxiety and lean to the calming cradle of spirituality for healing. Thokozani those that mock what they cannot comprehend. Thokozani modern day uncertified psychologists that get a great portion of their partial teachings from TikTok (hehehe yah neh), Thokozani nani Twitter psychologists and herbalists. Thokozani nina that are fascinated, intrigued and eager to understand and respect the journeys of others without judgment or disgust," she added.
Dineo Ranaka further spoke on the importance of the tongue. It is believed her advice is for Khanyi who spoke against lots of traditional healers.
"May we all try to have less opinions over the fingerprints of others as they are ALL uniquely designed. The tongue has proven to be the downfall of many a man."