Dangerous Truck driver who caused the Pangola, KZN accident that killed 21 people gets arrested
Dangerous Truck driver who caused the Pangola, KZN accident that killed 21 people gets arrested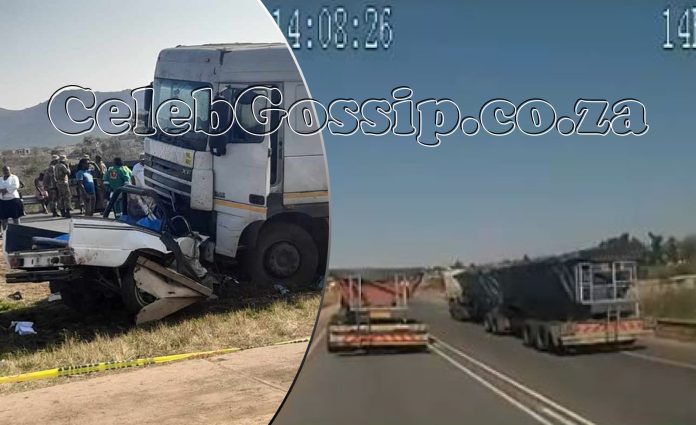 An irresponsible truck driver has left the residents of Pangola permanently devastated following an accident on N2 that claimed innocent lives on 16 September.
This accident follows after the community raised concerns about truck drivers' reckless driving – which speaks to a larger issue plaguing South African roads.
The driver was overtaking a haulage vehicle and collided with a vehicle transporting school children between Pongola and KwaZulu-Natal.
Nineteen children, aged between five and 12-years-old, are among the 21 people killed in a horror crash on the N2 between Pongola and Itshelejuba in northern KwaZulu-Natal.
Spokesperson for the KZN Emergency Medical Services, Robert McKenzie, said the bakkie had been transporting learners when it collided with a heavy vehicle.
In her capacity as acting KZN Premier, Nomagugu Simelane, has sent her condolences to the families.
"We wish to assure the citizens and all affected families that government is working with all stakeholders to ensure that the cause of this traumatising accident is investigated and concluded speedily," she said.
The MEC of Transport, Community Safety and Liaison, Sipho Hlomuka, as well as the MEC for Education, Mbali Fraser are leading government efforts to support the bereaved families and victims.
The provincial Department of Basic Education has also extended condolences to the families.
DA spokesperson on Education, Dr Imran Keeka, called on the authorities involved to get to the bottom of what happened in the interest of justice.
"Far too often are so many lives lost because of unsafe and unregulated scholar transport. We send our condolences to the all of the families who have tragically lost their loved ones. Only a parent who has lost a child will know the pain of these parents right now. We are hopeful that they will lean on faith and prayer during this excessively difficult period," Keeka said.
The driver fled the scene but later handed himself over to the authorities. He is now facing negligent driving and capable homicide charges.
The truck driver has since been arrested, the KwaZulu-Natal department of transport has confirmed.
According to the department, the driver handed himself over to the police on Saturday after a call by MEC for transport, community safety and liaison Sipho Hlomuka.
Police launched a manhunt after he fled the scene.
The driver is expected to appear in the Pongola magistrate's court on Monday, with Hlomuka expected to attend proceedings.
"His arrest is important in assisting the families to deal with the devastation of losing their relatives. We commend the police [for ensuring the driver surrendered]. We will be there to support the people of Pongola and the families during his court appearance on Monday," said Hlomuka.
According to News24, the KwaZulu-Natal traffic department is aware of the footage of the accident circulating – the truck is seen speeding excessively, overtaking a double barrier line, and violating all traffic regulations.
eNCA has revealed dashcam footage of the incident.
The truck driver in the Pongolo horror crash that claimed 21 lives has been arrested. The driver has handed himself over to police and is expected to appear in the Pongolo Magistrate Court on Monday. #Today #DStv403 pic.twitter.com/dmllmTkmsJ

— eNCA (@eNCA) September 17, 2022