Cyan trolls Sithelo Shozi (Video)
Cyan trolls Sithelo Shozi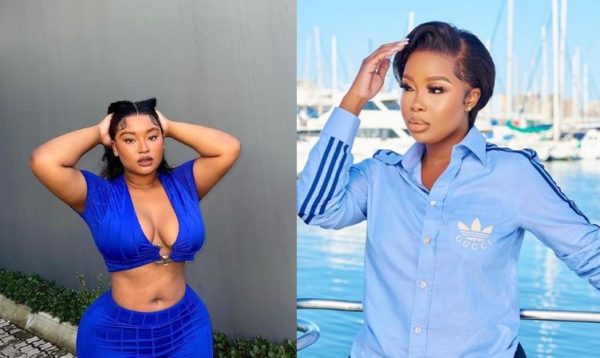 Cyan Boujee dedicates her latest vlog to trolling Sithelo Shozi
Cyan Boujee dedicates a whole vlog to diss Sithelo Shozi.
Days ago, the DJ reacted to a vlog where Boujee presumably used the same cloth for all the cleaning in the house, as the napkin(s) were the same.
"Le ndwangu isuke kuphi yayakuphi?" Shozi reacted to the vlog.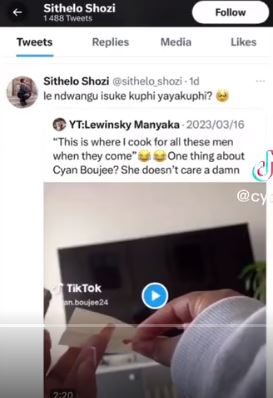 Taking to her recent vlog, Cyan roasted Sithelo which has them trending.
"Your Instagram Mayor decided to comment. The way she's so observant, she saw two of my clothes looking alike and thought it's the same cloth that I use for my dishes and also for my toilet, isn't that crazy?" Cyan said in the vlog.
"Before I address that, I'm not giving up on my vlogging, I'm enjoying this It's so crazy how people will bring you down when you're doing something, people that should actually give you more encouragement, people that share the same career as you – DJing and Influencing."
"On the side, she also does terrorize men, but it shocks me because if you terrorize men for money that means you're rich and if you're rich you should know that there are different clothes for every literal thing in your house, but it's crazy because you don't even have a house, you're too focused on designers and you couldn't even buy yourself a house or an apartment to even realise that there are two clothes needed to do different things," she added.
"Let's give a mother of three a lesson; two clothes and two different things, and remember always that I'm almost as old as your son … So, the least you could do is to pretend and shut the fvck up, so you don't prove that I am a threat."
The Vlogger frowned at how Sithelo's comment made people mock her for being dirty.
"B!tch I'm not, your heart is, so clean it!"
See reactions to the vlog below:
Cyan fetched Sithelo like an adult 😭😭 no screaming , no drama just straight forward drag 🤣🤣🤣 https://t.co/07qrRc26XI

— Aphelele Jody (@ApheleleJody) March 28, 2023
Cyan just dropped a bomb with the calmest voice ever on Sithelo: Just nailed the coffin ⚰️ 🐐 pic.twitter.com/7WzFC2IE52

— Sphe (@thirstysphe) March 28, 2023
Sithelo said what anyone would say, but because it's her Cyan decided to address her. 😂😂😂. Why she bringing up kids kodwa because of indwangu yesitsha 😭

— K A B E L O (@Kabzinkabzz_sa) March 28, 2023
I know Sithelo has one hell of a response for Cyan 😂😂
Even if she doesn't respond today but there is one 😂😂😂

— Àmanda  (@dukada_amanda) March 28, 2023
"Let's give Mother of 3 a lesson " mmm😭😭😭😭 pic.twitter.com/p2EO48tMnf

— Fancy(VKR) 🇿🇦 (@Fancyramusetha) March 28, 2023
Love how calm Cyan is talking while dragging Sithelo pic.twitter.com/Y2CWWiNO9D

— Shawty (@Nqobile_Cheezie) March 28, 2023
Sithelo said what anyone would say, but because it's her Cyan decided to address her. 😂😂😂. Why she bringing up kids kodwa because of indwangu yesitsha 😭

— K A B E L O (@Kabzinkabzz_sa) March 28, 2023