Crown Gospel Music Awards Nominees Announced – See Full List
Crown Gospel Music Awards Nominees Announced – See Full List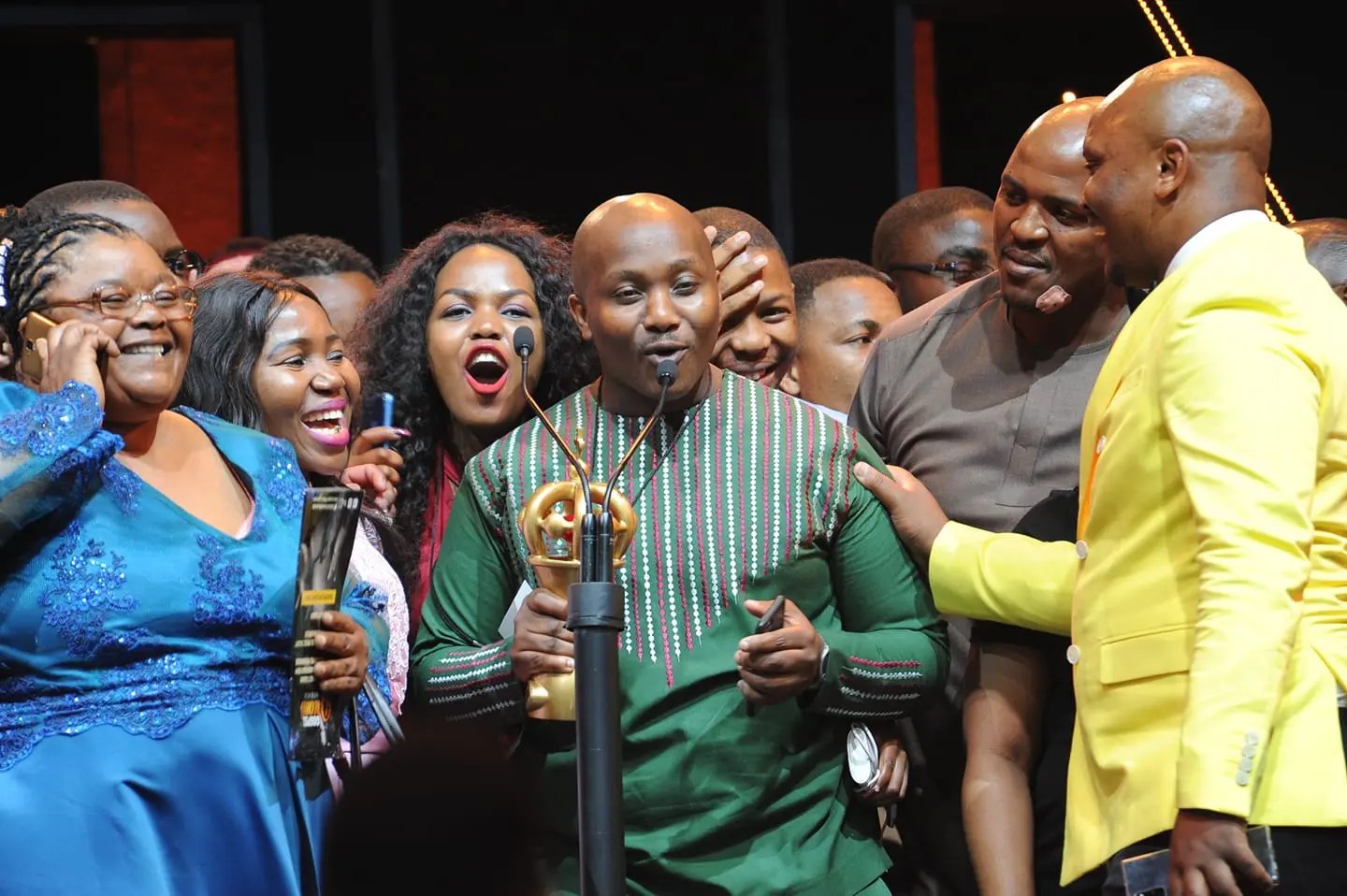 The nominees for this year's Crown Gospel Music Awards have been announced.
The nominee announcement was held live on Facebook by the founder, Zanele Mbokazi-Nkambule, on Sunday morning, 10 October.
Babe Ngisite hit-maker Takie Ndou is leading with seven nominations for Best Gospel Producer Album for his album, The Great Revival, Best Gospel Album for The Great Revival, Best Gospel Song Writer for Who Am I, Best Engineer (Job Thako) for Ngiyavuma, Best Community Outreach – Artist/Group, Best Gospel Male Artist And Best Gospel Artist.
He is followed by Ayanda Ntanzi and Xolly Mncwango, who both bagged five nominations each.
Takie Ndou spoke to Daily Sun about leading the nominations and said he's excited and humbled by the nominations.
"I'm so excited about the nominations. I am so humbled. It was a difficult year and one thing that has helped me get where I am is that I listened to the Holy Spirit when God told me to record a DVD recording, even if it was during the lockdown and we only had 50 people in the audience," said Takie.
"The title of the album is The Great Revival and I think God was telling me that the great revival was coming. Seven categories, honestly, I am so revived, humbled, and inspired. I want to thank the awards for all these nominations, my fans for supporting me and the media for pushing my music and talking about me," he said.
Other nominees include Ps Sebe Nzuza, Thobekile, Xolly Mncwango and Kgaogelo Kekana for Best Female Artist. The Best Gospel Male Artist nominees are Ayanda Ntanzi, Takie Ndou, Teboho Moloi and Canaan Nyathi.
The nominees for one of the biggest categories, the Best Gospel Song nominees are Xolly Mcwango for Healing Power, Ps Sebe Nzuza for Nawe Ungamthatha, Ayanda Ntanzi for Basuka and Jumbo for Wena Nkosi Uyazi.
Best Gospel Itende nominees are Indumiso Yetende for Angingedwa, Sgwili Zuma for Jesu Wehla, Icebo Lakhe Lingevinjwe for Fuzula and Tshwane Gospel Choir for Imiqhele.
While the Best Gospel Album nominees are Ayanda Ntanzi for According to Grace, Takie Ndou for The Great Revival, Xolly Mncwango for Jesus Is Enough and Tshwane Gospel Choir for The Promised Revival.
The pre-recording of the awards ceremony will be held on 12 November, with only 300 people in attendance. It will then be broadcast on 28 November on SABC2 at 8pm and streamed on YouTube and Facebook.
See the full list of nominees below.
Best Gospel Producer Album
Nqubeko Mbatha – According to Grace (Ayanda Ntanzi)
Takie Ndou – The Great Revival (Takie Ndou)
Sam Ngonyama – Indumiso Yetende
Bongani Nkosi – Another Level Of Grace Upon Grace (Canaan Nyathi)
Best Gospel Itende
Indumiso Yetende – Angingedwa
Sgwili Zuma – Jesu Wehla
Icebo Lakhe Lingevinjwe – Fuzula
Tshwane Gospel Choir – Imiqhele
Best Gospel Album
Ayanda Ntanzi – According To Grace
Takie Ndou – The Great Revival
Xolly Mncwango – Jesus Is Enough
Tshwane Gospel Choir – The Promised Revival
Best Gospel Classic Of All Times
Glory Of The Last Days – Ngizolibonga
Tebs David – Faithful
Thobekile – Its A Wonderful Day
Sanele Ngcobo – Yebo Bakithi
Best Amazion (Voting Category)
Fellowship Of God Ministries – Surely Goodness And Mercy
The Holly Nazareth Ekukhanyeni – Silifundiwe Izwi
Abahlabeleli Bakamoya – Nikelani Imizimba
Abadumisi Bevangeli – Aphakama Amazulu
Best Community Radio Gospel Show (Voting Category)
Njabulo Mpungose – Nqubeko FM (Iyahamba Lenqola)
Tumelo Nkuna – Voice Of Hope FM (Morning Glory Breakfast Show)
Sabata Maleleka- Madibeng FM (Bokamoso Show)
Lefa Phetha- Thetha FM (Lesolo La Jehovah)
Nqubeko Ndlela – Nongoma FM (Inqola Ka Bhombela)
Abraham Shiyani – Zibonele FM (Kuyenzeka Radio Show)
Best Worship Song
Xolisa Kwinana – Sithi Bayede
Keneiloe Hope – Thoriso
Jabulile Jay – Thina Imihla Ngemihla
Xolly Mncwango – Watswaneleha
Best Gospel Praise Song
Lungelo Hlongwane – Sengiyabala Nkosi
Ayanda Ntanzi – Ngiyaphumelela
Londiwe Nxumalo – Ngenzelwe Isimanga
Sbu Banda – Papa God Of Miracles
Best Gospel Acappela
Abakhethwa Gospel Singers – Kusuk 'Emandulo
Umlazi Gospel Choir – Moya Wenkosi
Jtg Gospel Choir –Sodoma Negomora
Nuz Voices – Similapha Nkosi
Best Gospel Clap And Tap
Mandlethu Gospel Singers Izwi Lakho
Ingqayizivele Gospel Choir Ke Buswa Ke Moya
Lejwe La Motheo Kokota
Temple Of God Jesu Lidwala
Tshidi Chauke Lekunutung Le Morena
Best Gospel Jazz Song
Siya Ndlovu – Nkosi Ngenze
Bra Bushi – Akukho Okunye
Neo Komane – En Route To Emmaus
Clauds – This Is Love
Best Commercial/PBS Radio Gospel Show (Voting Category)
Brown Mosiapoa – Motsweding FM Rorisang Crown 11
Phindy P – Ukhozi FM Ulibo Lokuqala Crown 12
Best Gospel Rap Song
Melisa Sibaya Uyinkosi
Butch Cassidy Faithful Always
Atchaar God Are Listening
Best Engineer
Job Thako (Takie Ndou) Ngiyavuma
Aaron Nkosi (Zaza) Shrubs Of Chronical
Shayne Kistensamy (Crystal Tryon) Vuka Ukhanye
Mark Montgomery (Godfrey Mahlangu) Modimo Wa Tseba
Best Gospel Songwriter
Takie Ndou – Who Am I
Jabulile Jay – My Everything
Crystal Tryon – Vuka Ukhanye
Bheki Sibusiso Langa (Tshwane Gospel Choir) – Through It All
Best Of Africa Gospel
Minister Michael Mahendere – Zimbabwe (Ndinouda Pkoma)
Tsepo Lesole – Botswana I Will Wait
Cross Ugo 2v – Nigeria Gods Ability
Jenet Manyowa – Zimbabwe Many Blessings
Best Gospel Collaboration
Ian Calf Ft Thinah Zungu – Jesu Nguwe
Kenny Shibambu Ft Rhofhiwa & Jannice – When The Spirit Move
Malusi Mbokazi Ft Abanqobi – Emihleni Ka Herodi
Sbu Banda Ft Takesure –Ngambulele
Best Contemporary Gospel Song
Esihle Siwela – Ingeyakho
Clauds – Identity
Shaun P – Jesus The Centre
Bushbuckridge Worship Explosion – Ngithume Nkosi
Best Traditional Gospel
Umzumbe Inspirational Choir – Bayede Ngonyama
Paul K – Sefapanong
Jumbo – Wena Nkosi Uyazi
Gofrey Mahlangu – Lentswe
Best Gospel Music Video
Paul K – Sefapanong
Crystal Tryon – Vuka Ukhanye
Gershom Ntimane – Ithemba Lam
Lwazi Khuzwayo – Jesus I Love You
Best Gospel DVD
Kenny Shibambu – The Story Of Grace
Tshwane Gospel Choir – The Promised Revival
Cannan Nyathi – Another Level Of Grace Upon Grace
Malusi Mbokazi – The Revelation
Best Newcomer
Gershom Mtimane – Ithemba Lami
Kgaogelo Kekane – Zibonakalise
Xolly Mncwango – Healing Power
Icebolakhe Lingevinjwe – Nefa Lethu
Best Community Outreach – Artist/Group
Di Bruin Gospel Project
Gershom Ntimane
Takie Ndou
Crystal Tryon
Best Gospel Group
Umlazi Gospel Choir
Message From A Broken Jar
Indumiso Yetende
Mighty Rooted Voices
Best Female Gospel Artist
Ps Sebe Nzuza
Thobekile
Xolly Mncwango
Kgaogelo Kekana
Best Gospel Male Artist
Ayanda Ntanzi
Takie Ndou
Teboho Moloi
Canaan Nyathi
Best Gospel Song (Voting Category)
Xolly Mcwango – Healing Power
Ps Sebe Nzuza – Nawe Ungamthatha
Ayanda Ntanzi – Basuka
Jumbo – Wena Nkosi Uyazi
Best Gospel Artist (Voting Category)
Ayanda Ntanzi
Takie Ndou
Cannan Nyathi