Connie Ferguson shares emotional text from Shona Ferguson
Connie Ferguson shares emotional text from Shona Ferguson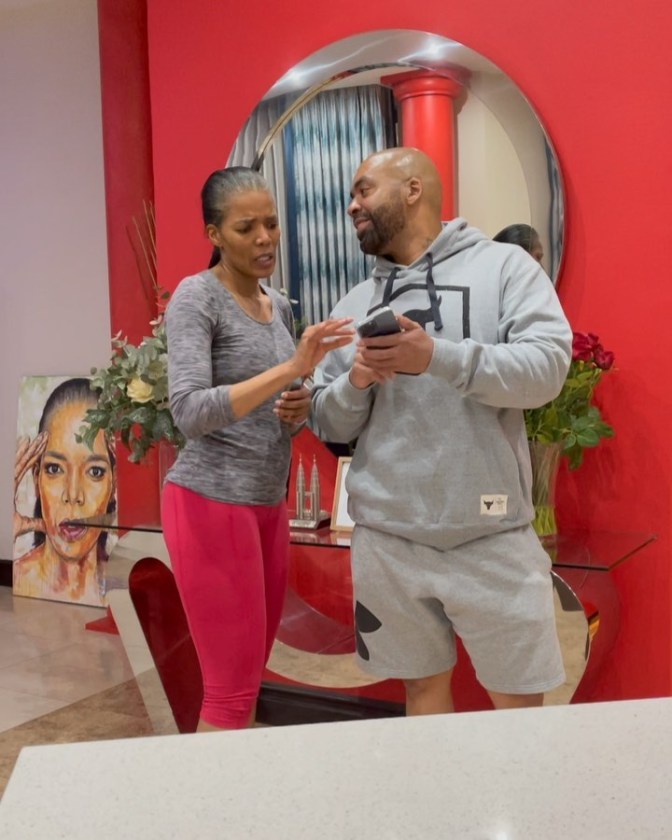 Today was the memorial service of television giant Shona Ferguson and the nation has been tuned in. One of the speakers at the emotional memorial was Shona's wife, Connie Ferguson who gave a touching eulogy.
The actress showed gratitude to God for blessing her with such a wonderful man. She recalled the day, the two of them first met.
"I have been loved. By God. More than I even thought was possible. Because God sent me an angel at a time when I think I had given up on love. And, my biggest mission in life was to see my daughter grow. Lesedi was eight years old at the time.
One evening. Very unexpectedly, very unannounced, an angel walked into my house. I was introduced to this angel by his laughter. I was all the way down the passage in my bedroom. And I just heard this laughter coming from my kitchen. I wasn't expecting any guests. I was expecting my sister. She lived with me and Lesedi at the time."
She revealed that his laughter and smile were one of a kind.
"There was just something about that laughter. Something drew me out of my bedroom. And I walked down the passage towards my kitchen, and there was this gentleman in a suit. In a baggy suit. And as I got there he turned around and our eyes locked. At that moment when our eyes locked, he gave the best smile. So confident. Not arrogant, confident. The connection was immediate."
Connie came across one of the many romantic messages they shared with one another and shared one that was very close to her heart.
"I came across a message on the laptop that he sent to me. So this text message was sent on the 22nd of April 2017. And he said to me – I just remembered the first day we met. He asked if I had not asked for his phone number, where would we be right now. If I had not kissed you on day three, where would we be? If you had not gone to Botswana that weekend, where would we be? I love you, baby."
#ConnieFerguson speaks about her husband Shona Ferguson at his memorial service.

Connie Ferguson starts by detailing how she and Shona Ferguson met 20 year ago.

Part 1. pic.twitter.com/qgPQTZncSr

— Musa Khawula (@khawula_musa) August 6, 2021
Speaking on her husband's legacy, Connie revealed that she will continue to grow her husband's legacy.
"Shona lived. He came into the industry like a tornado. Mr Ferguson was the most underrated actor in this country. As a performer, as an artist. I don't think we appreciated him enough. I think we are showing appreciation now that he is gone. But here's what I'm grateful for, I can feel that this angel was loved by many. I can feel that he was revered by many. And where he is now, if you think Ferguson films is great, know that Ferguson films is great. Because that is my husband's legacy, and it is going to continue growing from strength to strength If I have anything to do with it."
Connie revealed that Uncle Sho lived his life to the fullest and never took any day for granted.
"I thank God for you. I thank God for loving me so much that he gave me you for twenty years. I think he knew Shona. From when he was young. I think that was a blessing to him. And he said to us all the time, every day is a blessing. This man lived every day like it was his last. Didn't do anything in half measure. Everything he did he went all in. That's a big lesson for all of us. Live every day like it's your last day."