Coming up on Scandal in August 2023
Coming up on Scandal in August 2023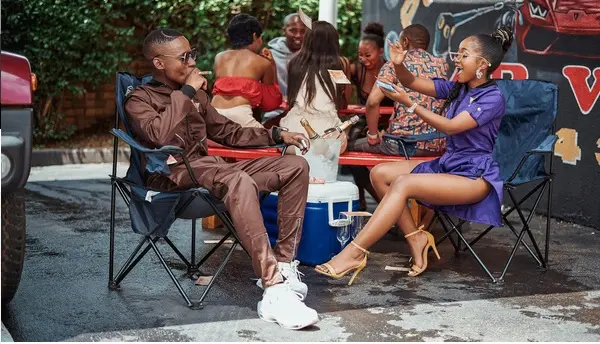 Coming up on Scandal! in August 2023: A young man tries to negotiate his way out of a tight corner. Jojo isn't impressed with Nhlamulo's act of kindness. Rorisang is surprised by a change of heart.
Tuesday 1 August 2023
Episode 88 (4400)
A young man gets an unexpected visit that sends shivers down his spine. A couple hunts for answers and are led to unfamiliar territories. A mom-to-be makes a hard decision she'd rather not be making.
Wednesday 2 August 2023
Episode 89 (4401)
Mbuso makes a hard decision that rattles a snake in its hole. A man finds himself in a situation that forces him to take action that may have consequences. A cheater suffocates from her own lies and digs an even bigger hole for herself.
Thursday 3 August 2023
Episode 90 (4402)
A young man tries to negotiate his way out of a tight corner. Jojo isn't impressed with Nhlamulo's act of kindness. Rorisang is surprised by a change of heart.
Friday 4 August 2023
Episode 91 (4403)
Someone cottons onto who the culprit behind the robbery really is. A household is turned upside down when a man brings home a stranger. Unable to contain his joy, Caiphus is just bursting to share his good news.
Scandal
Monday 7 August 2023
Episode 92 (4404)
Reverse psychology earns a young man another day out of jail but keeps him in snares. Nhlamulo makes a discovery that incites a possible eruption. The net starts closing in on Gloria.
Tuesday 8 August 2023
Episode 93 (4405)
Nhlamulo scratches the surface of a decade old family secret. Ndu and Caiphus stumble on a possible lead that could solve their robbery case. Lessons from the past are imparted on someone who desperately needs them.
Wednesday 9 August 2023
Episode 94 (4406)
Tensions are high when a son suspects his father of being sinister. Gloria drops a bombshell on Caiphus. A young man is faced with his crime and is struggling to conceal the truth.
Thursday 10 August 2023
Episode 95 (4407)
The pressure is mounting for Mbuso and his desperation leads to another bad choice. Nhlamulo realises that the honesty route isn't going to get him what he wants. Caiphus' revelation leaves Ndumiso reeling.
Friday 11 August 2023
Episode 96 (4408)
Mjomane decides to go after what Mbuso cares most about to get his attention. Nhlamulo and Andries' difference in opinion leads to them budding heads. Caiphus draws a line in the sand.
Monday 14 August 2023
Episode 97 (4409)
Teaser unavailable.
Tuesday 15 August 2023
Episode 98 (4410)
When backed into a corner a young man is forced to make a deal with the devil. Andries warns Vuvu about a potential danger. Gloria and Caiphus are faced with a huge decision.
Wednesday 16 August 2023
Episode 99 (4411)
An unsuspecting innocent person gets roped into a dangerous situation. A father's history repeats itself on a son who sinks into frustration and pain. Gloria receives frightening news and Caiphus tries his best to reassure her.
Thursday 17 August 2023
Episode 100 (4412)
A surprise from his family causes a complication for Mbuso's side hustle. Andries and Nhlamulo clash over the way forward. A woman can't believe the medical condition she has been diagnosed with.
Friday 18 August 2023
Episode 101 (4413)
Mbuso is horrified when he realises his actions will land him in hot water with Mjomane. Prudence uninvitedly inserts herself in a situation which causes a stir. A couple is left reeling as they face daunting consequences.
Monday 21 August 2023
Episode 102 (4414)
Phakamile is shocked to receive a disturbing phone call. A secret is kept from a fragile soul. Gloria is having a hard time coming to terms with her new dilemma.
Tuesday 22 August 2023
Episode 103 (4415)
A young, troubled man risks his life to save someone dear to him. Wakahina has memories from the past, but they are not what she thinks they are. A concerned husband fights for what he loves.
Wednesday 23 August 2023
Episode 104 (4416)
Teaser unavailable.
Thursday 24 August 2023
Episode 105 (4417)
Tlhogi makes a gruesome discovery and suspects the worst has happened. A family feels complete when a missing piece finally seems to fall in place. Jackie tries to help a friend, but Linda isn't keen to be part of the deal.
Friday 25 August 2023
Episode 106 (4418)
A guilt ridden man wants to pursue legal channels but the victim puts her head in the sand. A date doesn't go as planned when the lady feels overwhelmed. Gloria accidentally exposes herself on air and feels like she's in a living nightmare.
Monday 28 August 2023
Episode 107 (4419)
Linda is placed in an awkward position. Nhlamulo overhears something that doesn't sit well with him. By sharing her pain, one woman helps another deal with hers.
Tuesday 29 August 2023
Episode 108 (4420)
Tlhogi finds damning evidence implicating a friend in a bad situation and it terrifies her. Something happens that breaks WakaHina's heart. Gloria finds out that other's misery makes her feel better.
Wednesday 30 August 2023
Episode 109 (4421)
In an attempt to protect her friend, Tlhogi disposes of implicating evidence. Nhlamulo's good deed gets punished and WakaHina and Andries have a long overdue talk. Embracing her new journey opens a new door for Gloria. Premiere episodes of Scandal! air on e.tv from Mondays to Fridays at 19h00.