Busisiwe Mkhwebane reportedly wants ConCourt to award her unlimited money
Busisiwe Mkhwebane reportedly wants ConCourt to award her unlimited money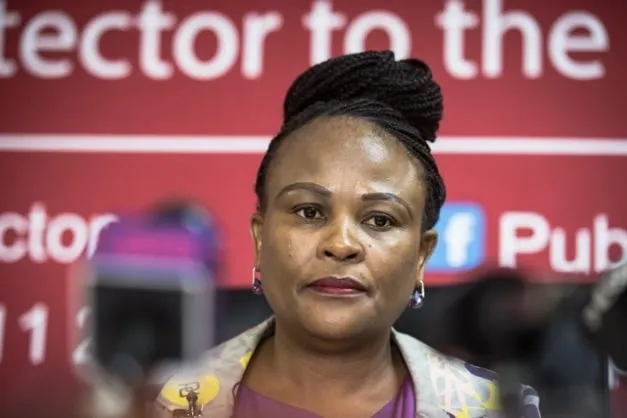 On Wednesday, the Public Protector's office told Parliament it would make an extra R4 million available for Busisiwe Mkhwebane's defence in her impeachment hearing. She, however, wants unlimited funds.
Mkhwebane approached the Constitutional Court (ConCourt) on Friday to force the Public Protector's office to supply more money to pay for her team of lawyers.
Section 194 hearing at impasse over funding
In February, Mkhwebane's lawyers did not appear at her Section 194 hearing because of non-payment of fees.
The impeachment hearing will resume on Monday, with the suspended public protector expected to once again give evidence in her own defense.
Mkhwebane, however, feels she should be given more funds after the ConCourt had previously ruled that she has a right "to be assisted by a legal practitioner or another expert of [my] choice", News24 reports.
She added that if the money is not made available, it would be a "malicious breach of the said binding court order" and "contempt of court".
Mkhwebane legal fees
The Public Protector's office has already spent R30 million on Mkhwebane's legal fees for the impeachment inquiry.
The R4 million that it agreed to pay her legal team was taken from surplus funds from the 2021/2022 financial year, and after getting approval from National Treasury.
ad
"We looked at the budget for the current financial year and we realized that it is not affordable because, while we are paying for the Public Protector's legal fees, we had to suspend some of the payments that we had to pay.
"There were court orders that were issued against us, the office itself, so we couldn't even settle those bills. So, we had to postpone them to this financial year," she said.
"So, we still had some leftover money of about R4 million that we can make available, just to support the process because we don't want anything to disturb the process. That is all that is available, and that money should cater for everything to do with the Section 194 process."
National Assembly Speaker Nosiviwe Mapisa-Nqakula has previously said that she did not think it was required to fund Mkhwebane's defence.
Mapisa-Nqakula said the ConCourt's earlier ruling did not extend to payment for Mkhwebane's legal representation.