Bontle Modiselle under fire after her husband Priddy Ugly gets knocked out by Cassper Nyovest
Bontle Modiselle under fire after her husband Priddy Ugly gets knocked out by Cassper Nyovest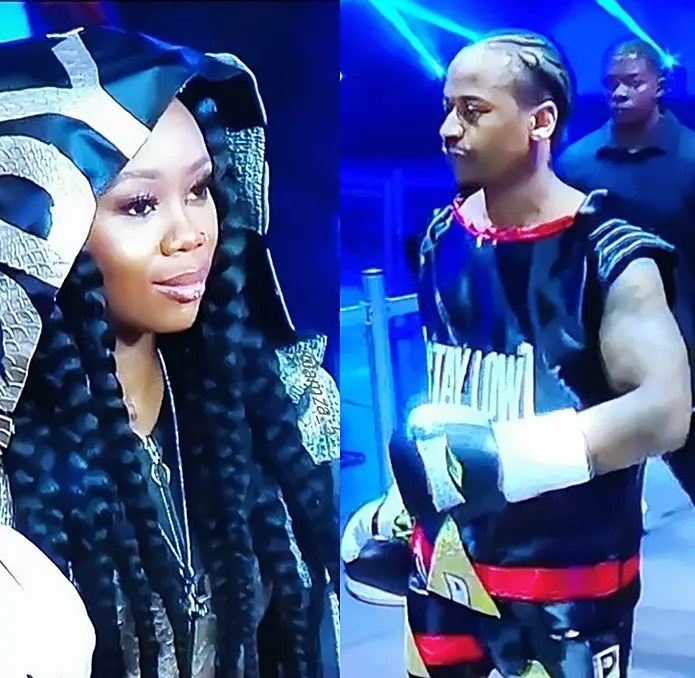 Mufasa aka Cassper Nyovest promised to knock Priddy Ugly out, but nobody thought that would happen in one round. To everybody's surprise, rapper Priddy Ugly lost the match in a sweet K.O match.
Yesterday, the highly anticipated celebrity boxing match between rappers Cassper Nyovest and Priddy Ugly took place at the Sun Bet Arena at Times Square Casino in Pretoria last night. What was supposed to last 5 rounds, ended up being an embarrassing 2-second 1 round match.
Priddy Ugly got knocked out so many times the memes are absolutely hilarious. His wife Bontle Modiselle accompanied him to the ring like the supportive wife she is. However, right after the first round, Bontle's disappointed face has made rounds on social media.
Here are some of the hilarious memes:
What about Bontle's sdima? Baby girl even made a grand entrance looking like she's with Mike Tyson😂😂😂 #CasspervsPriddyUgly pic.twitter.com/qu27fswzqC

— Ndau. (@Mualusi_ZA) October 1, 2022
imagine having a disagreement Bontle say " Ke tla bitsa Cassper 👀 a go solve'e in 2minutes" to Priddy Ugly 😭😭😭😭😭😭😭#CasspervsPriddyUgly

— 𝕮𝖗𝖆𝖇𝖔𝖜 𝕭𝖔𝖌𝖔𝖘𝖎 🥷🏾 (@crabowbogosi) October 1, 2022
Priddy ungly: Babe i will protect you…

Bontle: pic.twitter.com/RjlYJzfvZ4

— Tlou Da Don 🐘 (@Keks_Don) October 1, 2022
It's giving "Creed" vibes
Bontle x pretty ugly pic.twitter.com/dJ3QhQiBqh

— Ishmael Rose (@Ishmaelrose__) October 1, 2022
#CasspervsPriddyUgly
Bontle: i need some money 4 nails
Priddy: akena zaka
Bontle: cassper!! 😭😭
Priddy: pic.twitter.com/hYQCFQN4Fa

— KATLEGO (@Kreedworldwide) October 1, 2022
Priddy Ugly proved to all of us that he only good at being a loving boyfriend and cooking for Bontle

— ChrisExcel (@ChrisExcel102) October 1, 2022
Bontle before the match 😁 vs Bontle after the match ☹️ #CasspervsPriddyUgly pic.twitter.com/LZs6AUgspj

— 👠Nolali👠 (@Amza_5) October 1, 2022
Priddy ugly in the car with Bontle

#CasspervsPriddyUgly pic.twitter.com/Gg2luYbwyD

— Baby Daddy ka Scarlet Witch (@Mr__Morale__) October 1, 2022
Others comforted the couple against the mean tweets from trolls:
"I hope Bontle continues supporting her man. They managed to secure the bag tonight for 1 minute of work. He's still a winner," wrote @TaureanGoddess.
"At least he has Bontle, that's a win for life," @LalaMthokozisi.
"Bontle sees her husband being cyber bullied every other 2 weeks and she allowed him to fight Cassper?? And he got trapped?? Strength and love to her," @SihleStan231.
"I think I respected that Bontle was on his man's corner regardless of how the outcome of the fight would be. She knew it would be a 50/50 but supported him to the end. Joke aside, Priddy Ugly might have lost but he's got a woman, I respect them," said @TheRealest201.
Priddy Ugly did not become the sore loser anybody expected. He gave Cassper his flowers and congratulated him on the win. He admitted though that boxing is not easy and that he has never been knocked out so easily.
What an experience! Never been knocked down before, so I gotta give it to @casspernyovest – you definitely worked hard & earned your victory, well done champ!

Boxing is exciting, entertaining, takes real guts, heart & discipline.

Let's continue supporting the sport!

— SUN from the SOIL (@ItsPriddyUgly) October 2, 2022
Cassper on the other hand also thanked Priddy for agreeing to step in the ring and said people will be talking about boxing because of them.
Nothing but respect champ. Everyone can tweet but not everyone can step in those four corners. You did it for the love of boxing that we both share. People will be talking about the sport for a while because of our battle tonight. Glad you could get home safe with your family. https://t.co/RG1P02Gw2j

— Don Billiato (@casspernyovest) October 2, 2022