BLXCKIE AND GIRLFRIEND EXPOSED – VIDEO
BLXCKIE AND GIRLFRIEND EXPOSED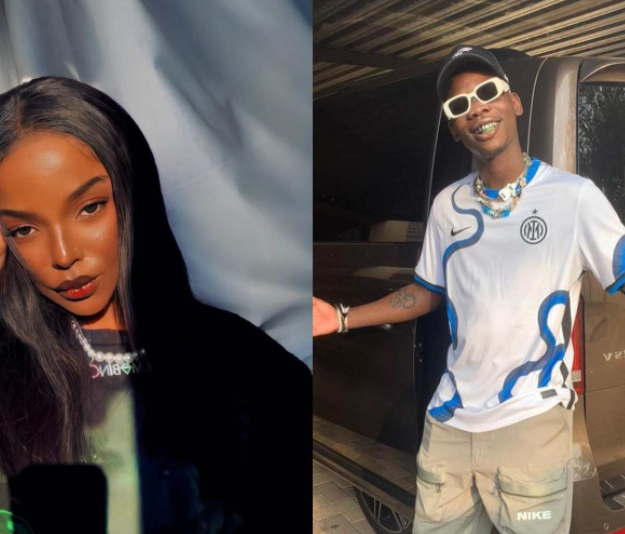 Professional dancer Tione Martinez called out Blxckie for giving her a cold shoulder. Tione also dragged Blxckie's girlfriend Hermosa in a video that is making rounds on social media.
She said she has known Blxckie for a while and they have also made songs together but now he is acting fresh on her since he became famous, "I was popping way before you…somnyama. I am actually pissed off because he embarrassed me…" she said.
She said he does not act like he knows her on social media but he wants to pull up on her in the club. Continuing her rant, Tione also dragged Blxckie's girlfriend right along. She said: "Hermosa do you know what Blxckie is doing in the club, you are busy posting videos of you guys…" she said laughing also adding that men are not loyal.
Tione Martinez calls out Blxckie for acting fresh on her since he became famous. pic.twitter.com/tE0JmJfddi

— Musa Khawula (@khawula_musa) October 13, 2021
Blxckie's girlfriend responded to Tione on her Instagram. She also made it clear that she is Blxckie's girlfriend, not a video vixen. Watch the video below.
Hermosa sets the record straight. pic.twitter.com/5M7jhPbWdg

— Musa Khawula (@khawula_musa) October 13, 2021
Meanwhile, Blxckie was rumored to be in a relationship with rapper Gigi Lamayne. The pair also recently released a song together.
Their relationship rumors sparked after TV and Radio personality Speedsta shared that he saw them hugging during his chat with Jawz on After Chillers with DJ Jawz.
Speedsta said, "I saw them hugging, like really tight and of course, when I got on air, I had to, you know, give it a bit of. Whether maybe, what I didn't see or what I did see happened, that doesn't make any sense, you know what I mean. But hey, I saw them hugging. That's about it."
Gigi has squashed the rumors and made clear that she is single and still searching. The rapper is currently on Love Island SA looking for love, "yes it's definitely for love and not for likes. How far am I willing to go to find love on temptation island, probably a nude bubble bath. I don't see myself spreading any cheeks. My power of seduction has to be my personality, I think I'm really good at being in different places and different times but still being here," Gigi said on her intro video for the show.
On Twitter a few days ago Gigi also shared that money is important in a relationship for her, "The love I deserve comes with money. I'm tired of men making me a mashonisa," she tweeted.