#BBMzansi: These are the 3 most loved Big Brother Mzansi housemates so far
#BBMzansi: These are the 3 most loved Big Brother Mzansi housemates so far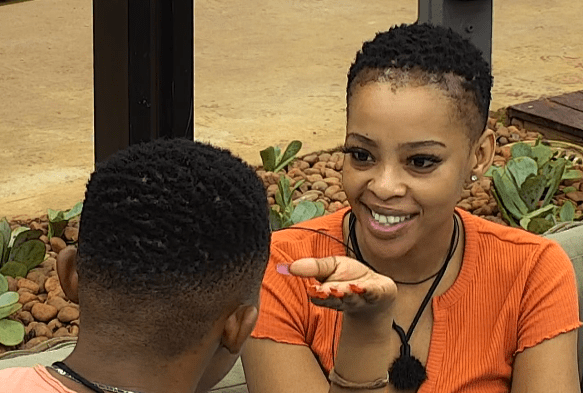 A couple of housemates have already made their mark according to viewers of Big Brother Mzansi. Season three of Big Brother Mzansi has become a huge hit with South Africans as the show is trending on Twitter daily.
Viewers of the hit reality show missed the shower hours, the drama between the housemates and housemates falling for each other.
Mzansi was surprised last Wednesday when housemate QV exited the reality show because she wanted a safe space to talk to a therapist about her unresolved issues.
"The longer I am here, there is a [bigger] need for me to address it quickly",
Here are the viewers' fan favourites housemates so far:
Nale
24-year-old Pretorian model, Naledi Mogadime, aka Nale describes herself as a calm and zen "fine gyal, not a sad gyal".
She is DJ and actress Thuli Phongolo's favourite housemate after she tweeted about her and commended her class, sass and substance.
I love everything about Nale, she's definitely the girl she thinks she is please 🥺😍 #BBMzansi pic.twitter.com/EdhgDhQMN4

— S. (@Iam_SiyaSanda) January 24, 2022
Nale is my type of gworl. The class, the sass… the substance. The beauty! 😍 #BBMzansi

— Thulisile Phongolo (@Thuli_P) January 24, 2022
Themba
30-year-old Joburg tattoo artist, Themba Karabo Mabaso aka Lil Wayne is a fan favourite on Twitter and has been trending since the show started.
Big Brother Mzansi viewers are drawn to his authenticity and no-filters strategy.
Viewers are also attracted to him because he's an enigma and often isolates himself from others.
Fans are also protective over him when the housemates "talk down" on him based on his accent when he speaks English.
I honestly hate how people are talking down on Themba based on his accent. Not everyone will have the college accent 🤦🏽‍♀️🙄.

Just because everyone is well spoken and can articulate themselves well, doesn't make him less smart. That guy is going far🤞🏽#BBMzansi

— Nastachia_Grey🌹 (@GreyNastachia) January 25, 2022
Mpho
27-year-old Michelle Dimpho Mvundla, aka Mphowabadimo, is a sangoma from Daveyton.
She describes herself as outgoing, kind and no-nonsense person.
Viewers are divided between her and Nale, who were already at loggerheads this week.
Fans are also predicting some romance between her and her Big Brother Mzansi housemate Libo.
Viewers love her personality and are looking forward to some romance between the pair who have been spending a lot of time together.
Our pretty fave mpho wabadimo 🥺🥵#BBMzansi pic.twitter.com/xbnsv9kl54

— MphowabadimoFanPage❤️ (@Cruella31470236) January 26, 2022
There's a reason why I love Mpho shame 😂😂😂😂😂🤣🤣🤣🤣🤣🤣🤣 she can do no wrong in my eyes#BBMzansi pic.twitter.com/FludMoRayH

— Siyanda 💫🇿🇦 || (@GomezSM__) January 26, 2022
When the timing is just right! 👌Mphowabadimo connects to Libo's Ancestors and gives him a beautiful impromptu reading.#BBMzansi
See more: https://t.co/Hlrwrh84nv pic.twitter.com/PPiXnelT96

— Big Brother Mzansi (@BBMzansi) January 25, 2022