Basetsana Kumalo thanks husband, Romeo Khumalo a on their 21th marriage anniversary
Basetsana Kumalo thanks husband, Romeo Khumalo a on their 21th marriage anniversary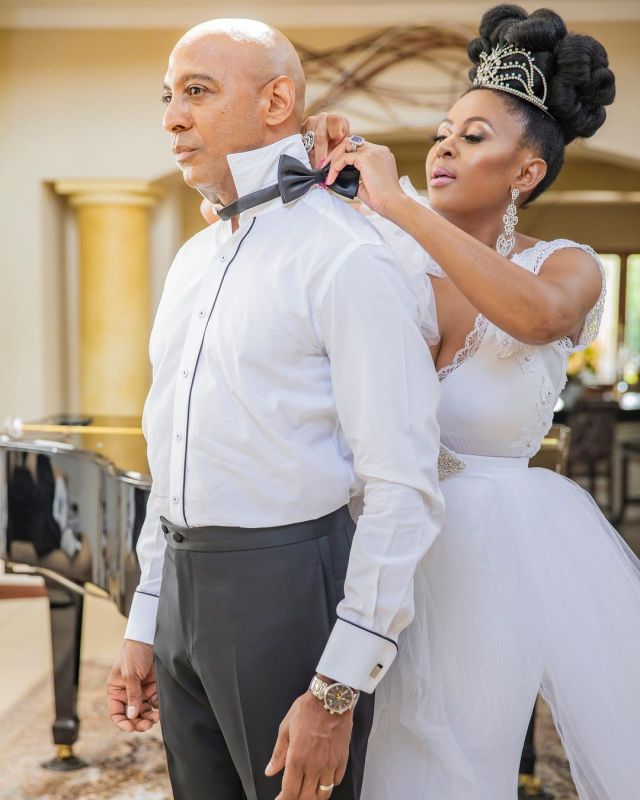 Media personality Basetsana Kumalo and her husband, Romeo Khumalo are celebrating 21 years of marriage.
The power couple will be celebrating their anniversary in December, but Bassie could not wait to shower her husband with love.
In an appreciation post, she wrote: "He doesn't like pictures….he's also not much for crowds…yes I love this handsome dude, but that's why I also like him. I like him a whole lot! He doesn't conform and really doesn't give much credence to who says what and what people think. He inspires me every day. My husband…my love…my #MCM…the one who looks after my heart all day, every day and for the last 21 years of marriage and 24 years of jolaring! Hey siyajola! Our next anniversary is only in December, but today I felt I should just appreciate this beautiful human being. Ngiyabonga Mbulaz'omnyama, Mzilikazi, Mashobane, Mntungwa, Zikode kaMkhatshwa."
To which the gushing Romeo responded with "Setse".
Her friends and colleagues also joined in the early celebrations.
The Isono producer, Lala Tuku wrote: "Each day is a beautiful opportunity to celebrate love. Here's to the one who looks after your heart."
One of their biggest fan, Sindy Frances Zimba, reminisced on the olden days.
He said: "I remember when I was still growing up in Killarney (Soweto) where Bassie grew up. I used to listen to Romeo K when he was still at Metro FM on romantic repertoire, which is done by Sentle today. Mr K used to play good music and I used to sing along to the music he played. When I found out that he is getting married to Bassie, I was so excited. I knew that this marriage was a match made in heaven. I'm a big fan of the Kumalos and I thank God for you guys. May he continue to bless you and your three beautiful children. I have a pic of myself with Bassie at Sandton when she was signing a book and she signed mine. What a good book it is. I love you guys very much."