Babes Wodumo and Mampintsha finally reveal their baby's face: He's the cutest baby ever (PICS)
Babes Wodumo and Mampintsha finally reveal their baby's face: He's the cutest baby ever (PICS)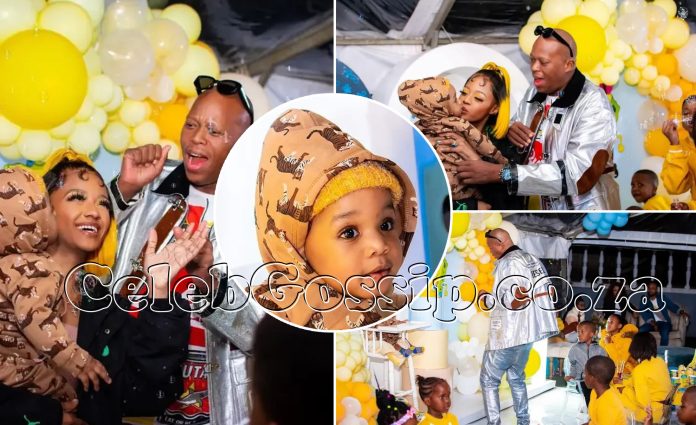 Babes Wodumo and her husband, Mampintsha, finally did a baby face reveal showing Sponge Wodumo . They did the face reveal on Mampintsha's Instagram page as he celebrated his first birthday. Since his birth in 2021, Babes Wodumo and her husband have taken great care to avoid posting pictures of their son's face on social media. They have changed their minds about this after making it clear that they would never post his face on social media.
Due to culture and safety concerns, they chose not to reveal Sponge's face. Terrible things were happening in the country, and they admitted they would instead not look back and regret if anything were to happen to their baby. However, since they have revealed Sponge's face, they are confident no harm will come to him. Mzansi came out in numbers to praise Sponge, saying he was the most beautiful baby boy they had ever seen. Some even asserted that he undoubtedly inherited his beauty from his mother, Babes Wodumo, a stunning young woman.
Babes lost weight during pregnancy, and she is proud of it. The stars are doing so well as parents, and everything seems to be going well for them, given the bullying Babes has been enduring online. Her detractors showed up in large numbers to accuse her of abusing drugs and being ill, which they claimed caused her to grow to this size. But she gets trolled whenever she posts recent pictures, and they constantly remind her of how she looks. She recently appeared as a guest in the Ukhozi FM studios.
Babes used Facebook to defend her weight in response to a radio host who decried the trolls by sharing a personal experience that resonated with Babes. She said, "It hurts seeing women make fun of my appearance. I lost weight during my pregnancy, and I lost more weight after giving birth. I am not stressing about my weight loss because some of my friends are struggling with it. "Others are quick to judge, and they say I am sick, need help, or take drugs, just because I had a baby and my body is still recovering… "I am enjoying being a mother, and I don't know what they want from me," she said.
Even her husband called out trolls, telling them to find employment and leave his family alone. Mampintsha said, "It hurts so much because the people who curse at us are people we don't know. No rich person curses at other rich people. It's always hungry people who are jealous and practice witchcraft. But they'd use that energy to ask for jobs, and I'd hire them so they could get money, get laid, and stop being angry. Instead, they spew bile. Leave us alone and pay attention to your life."
Even his trolls who claimed they missed the old Mampintsha were told to jump off a cliff, and he stated: "Other people are crazy, other people are fine, how can you say to me you miss the old Mampintsha, so you don't grow up? People grow up, and you can't remain to be one thing, so stop it. So please stop it, guys. I won't answer dom kops. Imagine asking me where the old Mampintsha is."