Are you well in the head? – Julius Malema asks people who still vote ANC
Are you well in the head? – Julius Malema asks people who still vote ANC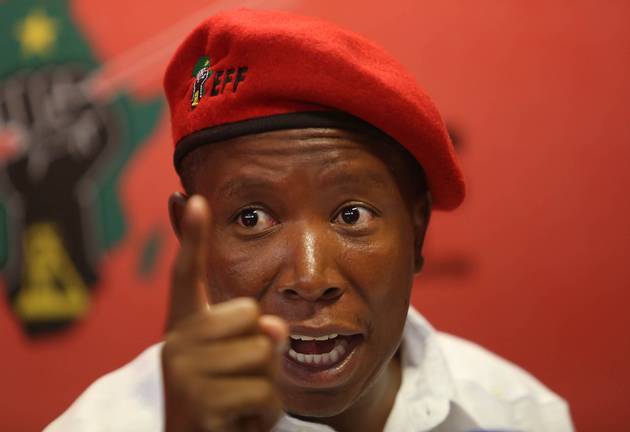 During a campaign to have people register in the upcoming local elections, EFF leader Julius Malema speaking in Diepsloot, Johannesburg asked people if they are "well in the head" for continuing to vote for the ANC.
In his address during a community meeting in Diepsloot Park on Saturday, Malema tackled many issues such as formalizing Eskom to fix electricity problems faced in the township, land, registering to vote and how voting for the ANC won't bring change.
"Now, you stay in a shack. You applied for a house since 1994. But you continue to vote for the ANC. Are you well in the head?" he said.
Malema urged people to register to vote, to get the ruling party out of power. "Let us go check our names, and those that are not registered must register." He adds that this will teach the ANC a lesson if dissatisfied voters register in their numbers.
"Change is your vote, you have been voting the same thing and things are remaining the same. Maybe if you change your vote, things will change," he told the Diepsloot community.
MALEMA: We heard all the issues and we will attend to them all.

Fighters, door-to-door is our daily bread.

The ANC is dead. Anyone who votes for the ANC is a fool. #RegisterToVoteEFF

— Economic Freedom Fighters (@EFFSouthAfrica) September 11, 2021
Malema said that people lack the patience and consistency of the late struggle icon, Nelson Mandela. Mandela was incarcerated in Robben Island for 27 years, the EFF leader says communities lack the fighting spirit of Mandela and then stop voting.
He further went on to say, the ANC's problems never started with former president Jacob Zuma, however, he did make things "worse."
"The ANC is responsible for this mess, we voted for the ANC, not for Zuma. It is the ANC that sold the people of South Africa and we must teach the ANC a lesson…The whole thing is rotten."
On the land issue, Malema says the party ones to give land to the people who need it, "and those who are able to build for themselves can build for themselves…
"We don't want you to buy the land, we want you to be given the land… When we marched in the 80s, we said we don't want matchbox houses. But the ANC government gave us worse than the apartheid people. We want to give you proper houses."
He added that when you give a "poor person a house, you are restoring the dignity of that person."
MALEMA: We also heard that you want houses.

There is a man called Steyn who took our land and even named it after himself.

We don't even have 300 square metres. We want the land to be given to you first. #RegisterToVoteEFF

— Economic Freedom Fighters (@EFFSouthAfrica) September 11, 2021
The EFF on Saturday maintained that it did not receive any donations above R100,000, between April and June this year, that needed to be declared to the Independent Electoral Commission (IEC).
The Red Berets were among 502 political parties that did not disclose any donations, while the ANC, DA and ActionSA declared donations totalling more than R30 million.