Anele Zondo Catches Heat for MCing Abilities
Anele Zondo Catches Heat for MCing Abilities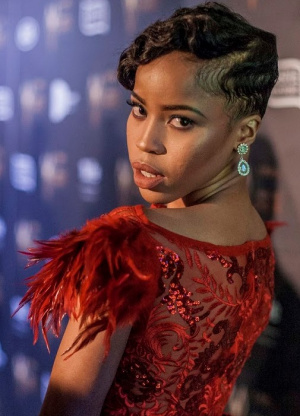 It seems like it is going to be a long day for the Aneles in ZAlebs today. First, it is Anele Mdoda still catching strays over a four year incident when she stated that Kelly Rowland without makeup "it's tickets." Therefore, with the Destiny's Child alumni currently in South Africa and labelling it her second home.
Of course, there were trolls ready to drag Anele again over Rowland posting images of her press run this past week. Some tweeps even wondered if Rowland would go on 947 again as the last time, her appearance coincidentally happened to coincide with Mdoda's sabbatical.
Is A aware that you are now a residence…welcome home Kelly

— Lady-Letso (@MbeleLetso) December 11, 2022
But this is not the Anele that is being dragged for filth on the timeline. This honour goes to host, rapper and aspiring fashion icon Anele "Ney the Bae" Zondo.
Anele Zondo catches heat for MCing abilities
Yesterday, most roads led to the star-studded musical festival Amstel and Friends. A music festival which included the likes of AKA, DJ Zinhle and husband Mörda, and the much anticipated first South African performance by Nigerian born but internationally acclaimed singer-songwriter, Tems.
This line up? Nah they made sure we were ENTERTAINED🤌🏽😭 #FriendsOfAmstel pic.twitter.com/3flo9PdaL1

— your sbwl (@zwotheramabale) December 10, 2022
— YTYKM (@neythebae_sa) December 11, 2022
While, most of the performances have been lauded. Anele Zondo is being dragged for filth. This is as she was hired as one of the MCs of the festival. A decision which made sense at the time considering that she is a former Massiv Music host and has shared via her social media that she is an in demand host.
But clearly, Zondo caters to a specific market of festival goers, as the crowd at Amstel and Friends were not that happy with her. Everyone seemed to have a story as to what made Zondo such an unfavourable host for the festival.
On the one hand, there are those that are agitated at Zondo for her lack of decorum. This is as it is said that she was a little too comfortable directing the b* word to festival goers. A sentiment which probably would have gone down differently if the entire crowd was millennials and 2ks, not a crowd filled with various age groups.
Anele kept calling us bitches😭😭 Palesa and I sabukana "usho thina yini?" 😭😭😭 https://t.co/Bw8bIcyBmQ

— Spura✨ (@_MbaliiiSithole) December 11, 2022
Di bitch tsa Anele

— Rochelle Meyer (@Rochelle__Meyer) December 11, 2022
bruh listen to this shit https://t.co/PiZ5e2HJlt

— Mathupana (@RiaMolefe_) December 11, 2022
Yoh ha a usisi just never kept quiet

Anele: "guys I'm Zulu, I speak Zulu… Tems doesn't speak Zulu"

Ma'am firstly we're in Pretoria, secondly senzeni 😭😭😭

— Dip 🍃 (@MsNan_) December 11, 2022
Anele never stop talking into the mic. Yoh ai Shem 😭😭😭

— ReshMowa (@ReshMowa) December 11, 2022
Second, was the fact that some are suggesting that Zondo wanted to use her time on stage as a host to share her vocal prowess. This is as she would sing random songs which did not gel with the music played by the DJs she was supporting. Or the fact that the crowd was forced to listen to her even when they did not want to. There is a lot she is being dragged for.
Anele wanted to perform so badly entlek🤣

— Gaga (@Thee_Cherri) December 11, 2022
Anele was even singing for yall 😂😂😂

— Ngiyi Social Being (@Thembeka__) December 11, 2022
No one:

ANELE: "I'm a savage"

😭😭😭😭😭

— Spura✨ (@_MbaliiiSithole) December 11, 2022
But maybe then it is a good thing that her music career is picking up. Recently, Zondo released her sophomore single Slim Thick, featuring Nadia Nakai. The Hip-Hop upbeat single which sounds the apt "hot girl summer" soundtrack has been performing well on the radio charts. A fact which can be attributed to just how much Nakai has also used her star power to promote the single.
So maybe it is time for Zondo to hang her hosting duties and focus full time on being an influencer and rapper.