And The #SAMA27 Nominees Are
And The #SAMA27 Nominees Are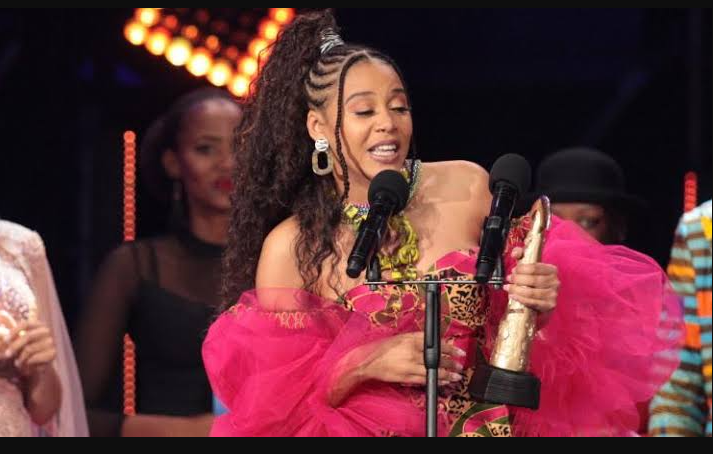 This year will be the 27th South African Music Awards, which acording to RiSA got off to a good start, receiving over 1 000 entries – the highest in Sama history so far.
The nominee announcement for the 2021 edition of the prestigious music awards took place on Wednesday, 19 May, with the finalists in 15 categories being revealed during a broadcast on SABC 1.
Presenters DJ Sabby, Rorisang Thandekiso and Sphesihle Vazi hosted the nominations broadcast show which started off with the nominees for the Best Kwaito Album. Mampintsha and much-loved vocalists Reece Madlisa and Zuma bagged nominations in that category.
Amapiano hitmaker Kabza De Small leads the pack with nominations for Album of the Year, Male Artist of the Year, Best Amapiano Album, Duo/Group of the Year, Album of the Year and Best Amapiano Album with DJ Maphorisa – making it six nominations in total.
House music lovers were pleased to see DJ and Producer Sun-El Musician getting the recognition he deserves after releasing a well-crafted album last year. He bagged five nominations in the Male Artist of the Year, Best Dance, Best Live Audio Visual of the Year, Best Produced Album of the Year and Remix of the Year categories.
The ladies are led by Gospel singer, Bucy Radebe who got four nods in categories, Sofn'Free Female Artist of the Year, White Star Newcomer of the Year, Best Traditional Faith Music Album, and Best Live Audio Visual Recording of the Year.
Bubbly performer Makhadzi was snubbed once again this year, and her fans are livid. Another shocker was the Album of The Year, which was only bagged by male artists and those who make house music or sub-genres of house music such as ampiano.
Here are the rest of nominees:
Album of the Year
-Persistence – Bongo Riot
-The Healers: The Last Chapter – Black Motion
– Once Upon A Time in Lockdown – Kabza De Small & DJ Maphorisa (Scorpion Kings)
-I Am The King of Amapiano: Sweet & Dust – Kabza De Small
-Back to Love – Junior Taurus
Male Artist of the Year
-To The World & Beyond – Sun-El Musician
-Persistence – Bongo Riot
-I Am The King of Amapiano: Sweet & Dust – Kabza De Small
-For the Groovists – Oscar Mbo
-Back to Love – Junior Taurus
Sofnfree Female Artist of the Year
-On the Frontline – Reign Africa
-Spiritual Encounter – Bucy Radebe
-What a Life – Sho Madjozi
-Xola Moya Wam' – Nomcebo Zikode
-Your Kingdom on Earth – Hle
Duo / Group of the Year
-Ama Roto EP – Reece Madlisa & Zuma
-Musical Kings – MFR Souls
-Once Upon A Time in Lockdown – Kabza De Small & DJ Maphorisa (Scorpion Kings)
-Shonamalanga – Mas Musiq & Aymos
-We Made It – Mi Casa
White Star Newcomer of the Year
-Jesus is Enough – Xolly Mncwango
-On the Frontline – Reign Africa
-Africado – Banda Banda & The Crocodiles
-Spiritual Encounter – Bucy Radebe
-Ingoma – Azana
Best Pop Album
-11:11 – Rowlene
-I Don't Sleep – Jethro Tait
-Tribes & Angels – Locnville
-Sugar – Mark Stent
-She – Amy Lilley
Beste Pop Album
-2021 – Die Heuwels Fantasties
-Die Toekoms is Synth – Synth Peter
-Twintig20 – Brendan Peyper
-Gewigloos – Juan Boucher
-Gemaklik Verlore – Christa Visser
Best R&B/Soul Album
-A Force To Be Reckoned With – Thando
-LANGA – Langa Mavuso
-Sindisiwe – LaSauce
-Small World – Ricky Tyler
-Uhambo – Soul Kulture
Best Hip Hop Album
-4436 – Boity
-Nadia Naked II – Nadia Nakai
-Zulu With Some Power – Nasty C
-POPSTAR – Yanga Chief
-Zakwe & Duncan – Zakwe & Duncan
Best Kwaito Album
-Sgubhu OverDoze – Lvovo & Danger
-Endaweni – Darkie Fiction
-Don't Lose Hope – Sukiripapa
-Bhut'Madlisa – Mampintsha
-Ama Roto EP – Reece Madlisa & Zuma
Best Dance Album
-To The World & Beyond – Sun-El Musician
-For The Goovists – Oscar Mbo
-Xola Moya Wam' – Nomcebo Zikode
-The Healers: The Last Chapter – Black Motion
-We Made It – Mi Casa
Best Afro Pop Album
-Ingoma – Azana
-Molimo – Manu Worldstar
-Ngumama – Vusi Nova
-The Voice of Africa – Kelly Khumalo
-Tugela Fairy: Made of Stars – Simmy
Best Live Audio Visual Recording of the Year
-Your Kingdom on Earth – Hle
-The Throne (Live Edition) – Presss
-Spiritual Encounter – Bucy Radebe
-My Hart Klop Refentse – Refentse
-A Journey to the World & Bevond – Sun-El Musician
Best Collaboration
-Uthando – Darque featuring Zakes Bantwini
-Ek Like Hoe Jy Dans – Chê featuring Snotkop
-Mali Eningi – Big Zulu featuring Riky Rick & Intaba Yase Dubai
-Senzeni – Mthandazo Gatya featuring Comado & DJ Manzo SA
-Yehla Moya – Da Capo & Nduduzo Makhathini featuring Omagugu
Best Produced Music Video
-Where is the DJ by Malumz on Decks featuring Khanyisa – Oscar Nyathi
-Qhawe – Made to Create by Toya Delazy – Kyle Lewis & Vjorn Tucker
-Mamela by Mi Casa – Katya Abedian
-Lucky Star by K.O – Adam Zackon & Dale Fortune
-Hosh by Prince Kaybee featuring Sir Trill – Ofentse
Best Produced Album of the Year
-In the Beginning was the End by Manana – Manana & Noble
-Ithemba by Luyolo – Marcus MC & Andy Keys
-Umsebenzi by Sjava – Delaydem, Ruff, Webmoms, Zadok &Vuyo Manyike
-Tugela Fairy: Made of Stars by Simmy – Sun-El Musician, Claudio Wayde, Da Capo, Mpho Mohlolong
-The Healers: The Last Chapter – Black Motion
Best Engineered Album of the Year
-Swingle Bells by Jonathan Roxmouth – Adam Howard
-Goodluck Upclose by Goodluck – Murray Anderson & Andrew Rawborn
-Isambulo by 1020 Cartel Artists – Mfanafuthi Ruff
-The Second Coming by Kid Tini – James Smals, Kitie, Ron Epidemic & Tweezy
-Inganekwane by Zoe Modiga – Papi Diretsi & Songo Oyama
Remix of the Year
-Jerusalema – Kid Fonque
-Ndanele – Dwson
-Sala Nabani – Sun-El Musician, Claudio & Kenza
-Speak Lord – Sculpturedmusic
-Yehla Moya – Da Capo
Best African Adult Contemporary Album
-Umsebenzi – Sjava
-Isambulo – 1020 Cartel Artists
-Amakhaya – Max – Hoba
-Bamako – Simphiwe Dana
-Buhlebendalo – Chosi
Best Reggae Album
-The Journey – Ras Canly
-Persistence – Bongo Riot
-My Music – Freeky
-On the Frontline – Reign Africa
-Empathy Riddim – Lavoro Duro
Best Amapiano Album
-Musical Kings – MFR Souls
-Back to Love – Junior Taurus
-I Am The King of Amapiano: Sweet & Dust – Kabza De Small
-Once Upon A Time In Lockdown – Kabza De Small & DJ Maphorisa (Scorpion Kings)
-Shonamalanga – Mas Musiq & Aymos
Best Gqom Album
-We Don't Play the Same Gqom – Que
-Make Cape Town Great Again – Mshayi & Mr Thela
-Isiqalo – DragerNation
-Inzalo Yekwaito – Zinaro
-Idando Kazi – Babes Wodumo
Best Maskandi
-Amagupta – iChwane Lebhaca
-Ziyangiluma Izinja – Phuzekhemisi
-Iqatha Eliziqobayo – Thokozani Langa
-Banathi Shaqa – Imithente
-Imfene Kamakhelwane – Abafana Baka Mgqumeni
Best Jazz Album
-Africado – Banda Banda & The Crocodiles
-An Open Dialogue – Linda Sikhakhane
-iHubo Labomdabu – Sibusiso Mash Mashiloane
-Modes of Communication: Letters From The Underworlds – Nduduzo Makhathini
-Thandi Ntuli (Live at Jazzwerkstatt) – Thandi Ntuli
Best Traditional Album
-Love and War – Henny C
-What a Life – Sho Madjozi
-Angeke Bakuthande Boke – Smangele
-Shebeen Queen – Vusi Mahlasela
-Ndavhuko – Vendaboy Poet
Best African Indigenous Faith usic Album
-Makhosi Akithi – Vuma Zion
-Izwi Lakho – Mandlethu Gospel Singers
-Katlehong Gospel Choir Artist Development – Katlehong Gospel Choir Artist Development
-Sithembe Wena Nkosi – JTG Gospel Choir
-Enyokumkhonza – Enyonini Mission Ministries
Rest of Africa Award
-Unity Album – Buffalo Souljah
-A Better Time – Davido
-Made in Lagos – Wizkid
-Midnight Train – Sauti Sol
-Songs in the Key of Love – Berita
Best Traditional Faith Music Album
-Project 17 – Chapter 2 – Worship House
-Buya Nkosi – Thinah Zungu
-Spiritual Encounter – Bucy Radebe
-Wathi Eloyi Eloyi – Sipho Makhabane
-Izulu – Sneziey
Best Contemporary Faith Music Album
-Devotion – Nqubeko Mbatha
-Face 2 Face – Collen Maluleke
-Jesus is Enough – Xolly Mncwango
-Your Kingdom on Earth – Hle
-The Promised Revival Part One – Tshwane Gospel Choir