AKA is Cassper's boss as he still owns The Braai Show – Mzansi react
AKA is Cassper's boss as he still owns The Braai Show – Mzansi react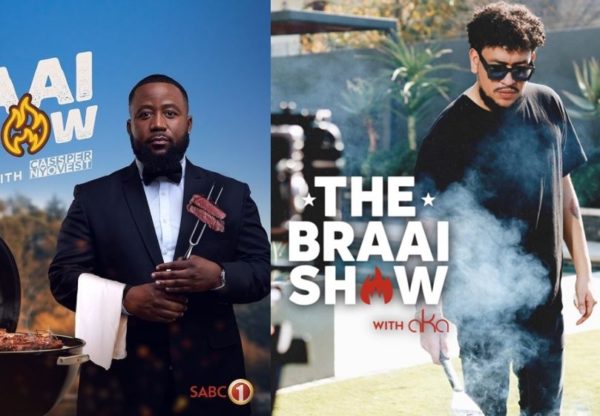 Cassper Nyovest has landed a tv hosting with the public broadcaster SABC 1 and tweeps are not liking what SABC 1 has done to the previous host.
AKA hosted The Braai Show With AKA on SABC 1 for its season one and now it seems he has been replaced with his nemesis Cassper much to the dismay of both artists' fans.
The Braai Show announced the switch up on Twitter, "The Braai Show returns with a sizzling hot season and the juiciest chops with Mzansi's favorite A-listers hosted by multi-award-winning musician and businessman @CassperNyovest
Every Thursday at 19:30 on SABC 1. #TheBraaiShowWithCassperNyovest"
These were some of the reactions on twitter:
"I respect the guy who made this call. It's not about replacing AKA but its a move that'll increase the fanbase of this show. It's just a tactic to promote the show and they got the right guy in Cass #TheBraaiShowWithCass"
"Cassper Nyovest taking everything from other celebrities, as long as it gives him food on the table he doesn't care what we all think, from being a rapper to Amapiano hit maker, designing tekkies, and now the BraaiShow, what's next? Appearing in The Queen? #TheBraaiShowWithCass"
"Cass will always be inspired by AKA,y'all forgot that he was his fan at some point so I'm not even surprised"
"Lets cut is short…AKA employs Cassper Nyovinja as host of his show. Megacy always win and Tsibians always eat Left overs from Megacy. Lets be honest AKA made Cassper in 2014 hence is able to Employ him so that akwazi ukondla ingcosi cz kuRough kuTense"
"As long there's moola the other guy is in. Cassper is fucking priceless and had zero ideas…take a look at his career that guy have no planning, his all over…from Piano, Gospel. Retire Mjita"
"Well congratulation Cassper on your new show but i believe this is so unfair, how many unemployed youth out there who are capable of this, why is it always folks who well off, doing well in life who are given opportunities, unemployed youth is being ignored #TheBraaiShowWithCass"
"Lmao, cass would never take such a Gig if it was not paying a far greater cheque then AKA, #TheBraaiShowWithCass"
"The way @casspernyovest has managed to stay on top and keep his brand clean is amazing, not even a speeding case, he keeps attracting brands cause they know what he can do for them. #TheBraaiShowWithCass"
"There's no way a TV station can just take your show and give it somebody else willy-nilly. Clearly AKA does not own a concept of The Braai show. He was just a hired presenter like any other, now he's being substituted. Cut throat industry this
#TheBraaiShowWithCass"
"Imagine turning down a good paying gig because it was previously done by someone. Let me also refresh your memory, Cass turned down a Hunters deal cause they were giving him peanuts but the other guy took it. it's work it's not personal #TheBraaiShowWithCass"
The good news is that AKA retains executive producer title as 50% owner of the show.
CASTING NEWS: Cassper to host #TheBraaiShow

Now, retitled #TheBraaiShowWithCass, Cass replaces AKA as host.

AKA retains executive producer title as 50% owner of the show#KgopoloReports pic.twitter.com/StT3zR6E6s

— Kgopolo (@PhilMphela) August 9, 2021