AKA buys Nadia Nakai a Rolex wristwatch? Mzansi react
AKA buys Nadia Nakai a Rolex wristwatch? Mzansi react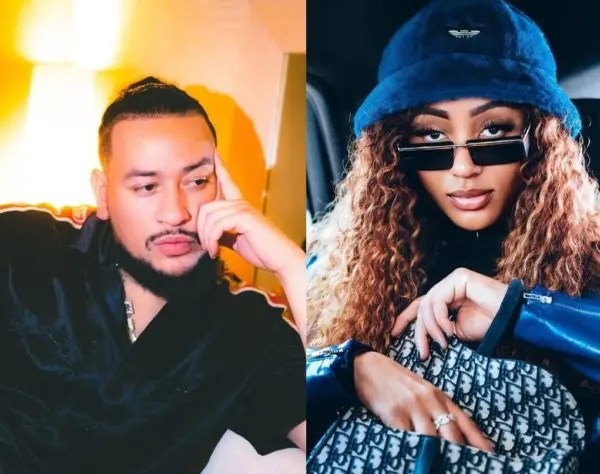 Mzansi Twitter trends Nadia Nakai over the new Rolex wristwatch she flaunted on social media, as many assumed that her alleged boyfriend, AKA bought her the luxurious watch.
It was rumored a few days ago that the two rappers are dating, and some netizens carried out an investigation, pointing out hints that they might have carelessly dropped.
Nadia revealed while flaunting her new watch, that a secret Santa gifted her.
'Secret Santa said it's gonna be an icy Christmas," she wrote.
However, social media users were quick to call out Supa Mega, tagging him the secret Santa, Nadia is refusing to disclose.
Meanwhile, the two were in a relationship with different partners early this year; while AKA's fiancée, Anele Nelli Tembe kicked the bucket, Bragga and her American lover, Vic Mensa broke up.
There's been various reactions to AKA and Nadia Nakai's rumored relationship.
AKA has done more for Nadia in a day than what family tree has done for her in 5 years pic.twitter.com/qqlFkjZFYq

— Ntshieng (@LeratoN_) December 29, 2021
AKA Bought Nadia a Rollex. We are getting Baby Tsibip soon pic.twitter.com/uqdSrqjdMj

— PABLO (@WonderMahlobo) December 28, 2021
Nadia only dated the major league guy and that USA fell rapper. Now that she is dating Aka, she being called names. The hate here is no towards nadia but Aka. Even your mother dated 14 guys to get your stepfather but u come hers to talk shit about our queen. pic.twitter.com/oHU5KB0M1A

— 🏆Moyane Leo🎱 (@leonard_moyane) December 29, 2021
The narrative that Nadia Nakai is being passed around like a blunt is very wrong, just because us celebrities dates well known people it doesn't mean we are being passed around.

— Collen (@Collen_KM) December 29, 2021
Nadia Nakia is dating Mega now and she deserves nothing but respect

She's no longer just any regular chick..

It's an upgrade to date to date AKA not the other way around.

— ChrisExcel (@ChrisExcel102) December 29, 2021
AKA moved on too soon, says someone who got impregnated by another man while dating two others.

Leave umjolo of other people alone and focus on your tekateking one.#Nadia

— The Iron Duke (Unruly) 💜🖤💙 (@ScelonG) December 29, 2021