AKA and DJ Zinhle's 5-year-old daughter Kairo under fire after paying tribute to late King Goodwill Zwelithini
AKA and DJ Zinhle's 5-year-old daughter Kairo under fire after paying tribute to late King Goodwill Zwelithini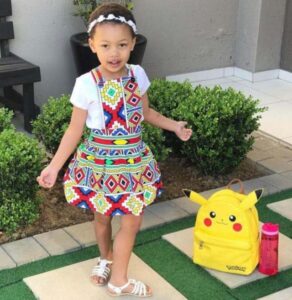 Kiernan AKA Forbes' engagement might have just been the growing up that he needed if he continues to showcase fatherly goals as he has. The rapper who recently announced his engagement to not-ama2k-because-she-was-born-in-1990-something, Nelli Tembe, recently stepped up for daughter, Kairo Forbes. The rapper coming to the defence of his daughter is a stark difference from having previously thrown his daughter in the firing line when dealing with tweeps.
Forgotten what we are referring to? Well, a quick reminder. Remember when DJ Zinhle– Kairo's mother and the ex-girlfriend of the rapper- took to Twitter to make it clear that one aspect of her life that will not be of trending topic is her daughter? The reason she did so being the attacks that Kairo was getting following AKA using her as an example of how generational wealth is produced, and some on the app are just haters.
Well, it seems it was not just the tweeps that got the memorandum. But the possible father of two seems to have also received the message and is working on ensuring that it is maintained even on his own timeline. This was after Kairo was getting flack over her post on her Instagram account sending "her" condolences to the family and friends of the late King Goodwill Zwelithini.
Earlier in the week, South Ah was rocked by the announcement of the passing of the King of the Zulu tribe, King Zwelinithini. Kairo who is half Zulu due to her mother's origins posted an image of herself dressed in traditional regalia paying her tribute to the king.
In the message, Kairo captioned the post by writing to the king's family that, "Our nation has lost a king. Hamba kahle Silo samabandla (Rest in peace, protect of nations.) King Goodwill Zwelithini ka Bhekuzulu."
But it did not take long for tweeps to circulate the post and question how the toddler could write such a succinct and articulate message. This was as they flooded the comment section with side-eye comments guessing who was behind the message. Guesses mostly suggested it was DJ Zinhle because of the isiZulu part of the caption.
🇿🇦✊🏽👑 pic.twitter.com/v38r6jCu3Z

— AKA (@akaworldwide) March 12, 2021
Le bofa bo kairo weitsy Mara lore le bolela kamang gaitse selo

— MSK (@ShaunMduduzi) March 12, 2021
Le bofa bo kairo weitsy Mara lore le bolela kamang gaitse selo

— MSK (@ShaunMduduzi) March 12, 2021
Akungaqanjelwa bandla ingane amanga pic.twitter.com/d4FwyLaYsd

— Voice of the Streets® (@Mihlah_) March 12, 2021
It seems that some tweeps are unaware that Kairo's social media platforms are run by her grandmother, Lynn Forbes hence they can sound so articulate. But AKA recognizing the comments decisively dealt with the naysayers and made it clear that delete and tool, or risk the fury of ZInhle- jokes of course about the last part.
Zinhle wrote this

— Matodzi Bendami 🇿🇦 (@BendamiMatodzi) March 12, 2021
What's weird? A 5 year old celebrating/honouring her heritage? https://t.co/yFWJoiXDM7

— AKA (@akaworldwide) March 12, 2021