Actress Velephi Mnisi joins Gomora Mzansi
Actress Velephi Mnisi joins Gomora Mzansi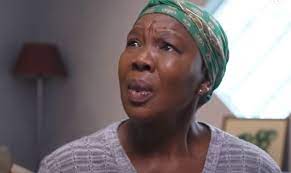 Actress Velephi Mnisi recently joined Gomora Mzansi as Nomsa and has wasted no time in shaking things up at the Molefe household. She first appeared as a homeless woman looking for accommodation and a place to lay her head for the night in the township of Alex. Mam Sonto gladly offered her a place to rest and a side hustle while she tried to find her feet.
Fans have been wondering what this mysterious and prophetic woman was all about until recently when Sonto found out that she's Jomo's mother – a guy she killed while she was still in the high jacking business. She has now falsely accused her of being a thief and kicked her out of her home as she's afraid of what she might find out. At this stage, Nomsa is unaware that Thati's mom is the one who killed her dear son. Although she's been told to leave – we do not believe her storyline is over yet. We know that it's probably going to end in tears, either for her or for Sonto.
In the episode airing this evening, a source has revealed to us that Nomsa will confront Sonto about the passing away of her son. Mazet will also receive some good news.
Since its debut in 2020, Gomora has climbed up the ranks and even dethroned fan-favourite The Queen to become the most-watched telenovela on Mzansi Magic. The gritty drama is centred around two families the Molefe's and Dlamini's. Mzansi Magic describes it as a story about inequality following the rich and the poor.
Velephi Mnisi is a seasoned actress who's appeared in many popular television shows. Check out some quick fun facts about her below.
Notable Roles
She's appeared as Qavile Khumalo in SABC 1's Vula Vala and as Dudu Msomi in Muvhango.
Awards
Mnisi won the SAFTA Golden Horn for Best Supporting Actress in a TV Soap (she was on Muvhango at the time. This was in 2007.
Age
The actress was born on October 23, 1963. She is 58-years-old.