Actress Natasha Thahane heavily dragged after baby daddy Thembinkosi Lorch missed a penalty
Actress Natasha Thahane heavily dragged after baby daddy Thembinkosi Lorch missed a penalty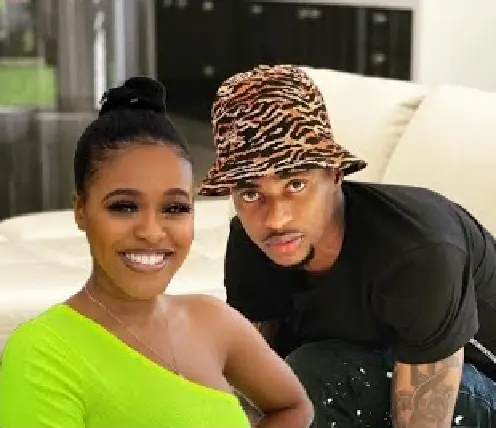 Social media users took to Twitter yesterday to take jabs at Blood And Water star Natasha Thahane for Orlando Pirates player Thembinkosi Lorch's missed penalty in the CAF Confederation Cup final match against Morocco's RS Berkane in Uyo, Nigeria.
The only scoring Thembinkosi Lorch does is Natasha's goal post only 🤣🤣🤣 pic.twitter.com/5OTLZnBlXO

— ® (@RybroX) May 20, 2022
Orlando Pirates fans are blaming actress Natasha Thahane for Thembinkosi Lorch's missed penalty yesterday in the final match against Morocco's RS Berkane.
Thembinkosi Lorch who was named man of the match went from hero to zero for the Buccaneers after he scored the equalizer to send the match into penalties – only to miss from the spot in the shootout.
The Moroccan side, who won the CAF Confederation Cup in 2020, was flawless in the penalty shootout, winning 5-4 to lift the trophy.
Pirates fans were left reeling after the results of the match and took jabs at his reported baby mama Natasha Thahane on social media.
The actress and her football player bae have unfollowed each other on Instagram, haven't confirmed they have a baby together, and have deleted pictures of each other on social media.
This is after the pair confirmed on his birthday last year that they are smitten with each other after rumours of their relationship made the rounds on social media in 2021.
He'll miss a penalty

— Thakzen (@7_Motaung) May 20, 2022
The hole South Africans is compregate Orlando Pirates @_starDESTROYER @Natasha_Thahane pic.twitter.com/JWXyIdBlky

— MeeYack SA (@LoneWolf_Myaka) May 21, 2022
@Natasha_Thahane being blamed for @Lorch's miss(es) will NEVER be Funny#Lorch #Natasha#CAFCCFinal #OrlandoPirates pic.twitter.com/BpOA1cjrq0

— Aphelele Makhaza (@MakhazaAphelele) May 20, 2022
Even Nigerians are not happy with our "star player". @Natasha_Thahane please convince him to move elsewhere, we've had enough of your man@orlandopirates #CAFCC #CAF pic.twitter.com/4oA6Df6JHt

— 📀King_Of_The_Jungle📀 (@Loot_Me_21) May 20, 2022
The only thing Orlando Pirates is gonna celebrate this year is Natasha pregnancy.. pic.twitter.com/d86vyzi6hk

— ChrisExcel (@ChrisExcel102) May 21, 2022
Bro tomorrow I'm hosting a braai and I don't know how I'm going to face everyone😭😭

— Shonempini💙 (@mthoko_nhlapo) May 20, 2022
This is how Natasha sees Lorch today#CAFinal pic.twitter.com/DepMmSuR6b

— Proff🕊️ (@PR0FFFF) May 20, 2022
Lorch they way he miss penalties i ask myself how did natasha fall pregnant pic.twitter.com/ejRqmmfV79

— Quan (@Mulaudzi__) May 20, 2022