Actor Masoja Msiza (Nkunzi) from Uzalo bitten by dogs while selling steel wool
Actor Masoja Msiza (Nkunzi) from Uzalo bitten by dogs while selling steel wool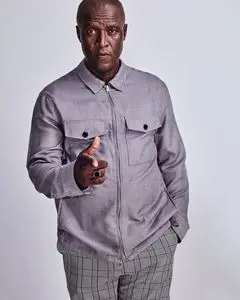 he may have grown up in a poor environment without privileges, but he has turned his painful upbringing and childhood suffering into a positive influence.
Actor and author Masoja Msiza does not only entertain on TV, but he also visits schools to motivate kids.
His motivational talks are influenced by his upbringing.
Masoja, who is known as the feared Nkunzi on Uzalo, aims to add positivity in the minds of young creatives.
"I don't go around schools motivating kids just because I think they can't think for themselves or their future, but I'm doing this to add on the positives that they dream about and want to achieve for themselves.
"What I'm trying to tell them is that they can be anything. They can be big and celebrated like me no matter what their background is. They mustn't look down on themselves," said Masoja.
The 57-year-old actor, who grew up in KwaThema in Joburg, said his upbringing was rough and painful.
He said he once went door-to-door, selling steel wool. But unfortunately, he was bitten by dogs.
"I have wounds of dogs bites. But every time I look at these wounds, I'm reminded of my long journey. I use them to motivate kids. And they pay attention when I speak to them," said Masoja.
He is also a poet.
Masoja has written poem collections including Voice of Hope and Avalon.