A pig painted this portrait of Prince Harry and it sold for R50,000
A pig painted this portrait of Prince Harry and it sold for R50,000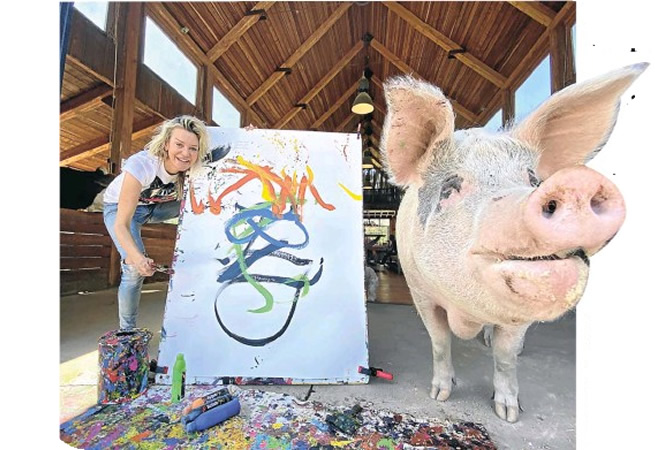 Prince Harry may not know it, but thanks to him Pigcasso the painting pig has snuffled up another R50,000 to help the cause of farm animals.
That's the price Patrick Reich, a vegan art-lover in Spain, has paid for a portrait of the Duke of Sussex by the heavyweight porcine expressionist.
This is not the first time that Pigcasso, who lives at an animal sanctuary in Franschhoek, has created an artwork of a royal in her inimitable style. In 2019 a woman in London snapped up a portrait of Harry's grandmother, Queen Elizabeth, for about R40,000.
Two months ago Hollywood actor Ed Westwick — best known for his role as Chuck Bass in the hit television series Gossip Girl — commissioned a Pigcasso original for which he paid R25,000.
Pigcasso's owner, Joanne Lefson, joked that with Pigcasso being an avid follower of the news, it was inevitable that she would paint a Prince Harry portrait. "Well actually Prince Harry's hair has always been on her hot list. With all the hype around him and Meghan Markle recently it was simply time to paint him," she said. Lefson saved Pigcasso from becoming sandwich filling when the pig was six months old.
Since then, the sow — which displayed talent from the outset when it chose a paintbrush instead of a ball as a toy — has sold works to collectors locally and abroad and was commissioned by Swatch to produce artwork for one of its watches.
All proceeds go to Lefson's nonprofit, Farm Sanctuary SA, which promotes compassion for farm animals.
"We do rescue operations and have a number of rescue animals. [The money] covers the feed and vet care," she said.
Lefson said the painting of Prince Harry attracted attention when she posted it on Pigcasso's website. "The buyer has bought other works of Pigcasso's already. He is a big fan and loves our message, our mission and the organisation. His support has been fantastic."
Reich said he was pleased to contribute to Lefson's cause. "We can learn a lot about pigs from Pigcasso. They are very intelligent, sentient beings."
He said all animals "deserve to be free and live their lives".